Prenatal Ease
Prenatal Ease Ultra- Nourishing Cream
To Revitalized Stretched Skin 118 mL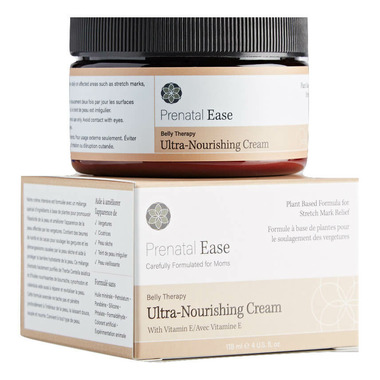 To Revitalized Stretched Skin
118 mL
---
Description
Stretch marks are common during pregnancy. Their appearance is partly related to the rapid weight gain and expansion of the abdominal wall. The collagen and the elastin fibers in the dermis (skin) are rapidly thinned and stretched. Prenatal Ease Ultra-Nourishing Cream was designed to repair and nourish the stretching skin.
The intensive cream is made with a special blend of plant based ingredients to promote skin's elasticity and improve the skin's appearance from stretch marks. Contains both Shea and Cocoa butters to alleviate chapping and itching due to dry skin and helps to protect the skin's moisture barrier. The blend of highly purified extract of the Centella Asiatica herb and nourishing oils of Borage, Rosehip and Calendula helps to repair and revitalize skin. This advanced formula is non-staining and penetrates deep into the skin, leaving it nourished, soft and supple.

Features:
Natural
No animal testing
Helps improve the appearance of stretchmarks, scars, dry skin, uneven skin tone and aging skin
Rich, luxurious cream penetrates deep into the skin leaving it feeling nourished, soft and supple
Plant based formula, made with our proprietary herbal blend (includes Centella Asiatica, Borage, Rosehip, Calendula) to help repair and revitalize your stretching skin. •Contains Shea and Cocoa butters, apricot kernel oil to moisturize and soothe itchy skin
Free of mineral oil, petroleum, paraben, silicone, phthalate, formaldehyde and no animal testing
One tub contains 118 ml / 4 U.S. fl. oz.

Directions:
For best results, gently massage twice daily on affected areas such as stretch marks, scars and where skin tone is uneven.
Keep out of reach of children. For external use only. Avoid contact with eyes. Do not apply on broken skin. Discontinue use if signs of irritation or rash appear.
Ingredients:
Aqua, Butyrospermum Parkii (Shea) Fruit Butter, Emulsifying Wax NF, Theobroma Cacao (Cocoa) Seed Butter, CetylAlcohol, Vegetable Glycerin, Prunus Armeniaca (Apricot) Kernel Oil, Borago Officinalis (Borage) Seed Oil, CalendulaOfficinalis Flower Extract, Rosa Mosqueta (Rose) Hip Oil, Centella Asiatica Extract, Lavendula Angustifolia Oil, CanangaOdorata Oil, Tocopherols (Vitamin E), Phenoxyethanol, Caprylyl Glycol, Sorbic Acid.
Highlights