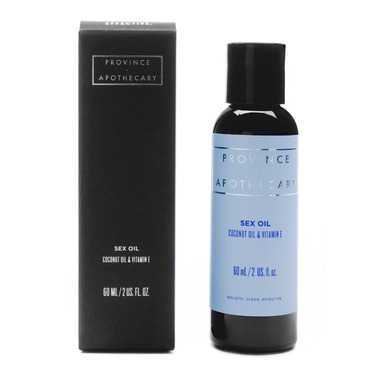 Description
Many commercial lubricants can be irritating and contain nasty ingredients. No one wants these ingredients on their skin.
Province Apothecary's sex oil is free of: Alcohol (drying + irritating), Glycerin (can cause yeast/thrush infections, drying + irritation), parabens (endocrine disruptor's, mimics estrogen), petroleum products (irritating + suffocating to the skin), harsh preservatives (cellular mutation, diminishes sperm function + irritates the skin) and synthetic fragrances or colour.
Benefits:
HAVE MORE FUN! Oil based lubricants provide a lot of staying power. This scent-free natural oil blend will hydrate and lubricate the skin. It is light and moisturizing. It won't irritate sensitive skin and doesn't need to be washed off after use. Great for every part of your body.
All Province Apothecary products are free of fillers, pesticides, dyes, petroleum, synthetic chemicals + fragrances, GMOs, and animal testing.


About Province Apothecary Products:

Hand-made in small batches on a weekly basis to ensure freshness
Made with organic, raw materials sourced from small, Canadian companies
Packaged by hand in protective blue glass with biodegradable labels that are foil stamped by a local artist
Directions:
Use generously and apply where desired. Can safely be used with condoms made from lambskin and polyurethane (plastic). Do not use with latex condoms/products.

Ingredients:
Fractionated Coconut Oil, Sunflower Seed Oil*, Evening Primrose Oil* and GMO-free Vitamin E. *Certified Organic/Certifié Biologique
This product is undiluted, preservative-free and vegan. Province Apothecary enriches the serum with GMO-free Vitamin E and Rosemary Extract to prolong the lifespan of the product. They recommend using this product within 12-24 months.
Highlights