Province Apothecary Ultra Hydrating Skin Kit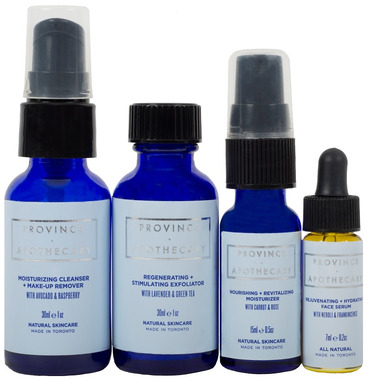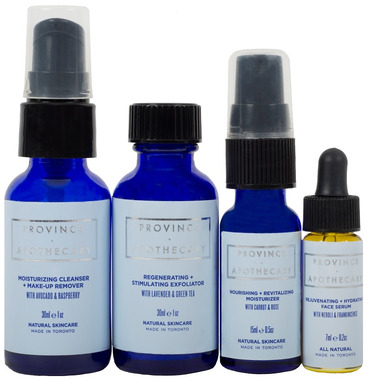 Province Apothecary Ultra Hydrating Skin Kit
Province Apothecary Ultra Hydrating Skin Kit includes Face Balm instead of moisturizer to give you MORE protection and MORE hydration!
Includes:
Moisturizing Cleanser + Make up Remover (30 ml)
Regenerating + Stimulating Exfoliator (30 ml)
Rejuvenating + Hydrating Serum (7 ml)
Protecting + Restoring Face Balm (10 ml)

Benefits:
Essential, all natural skincare products specific for dehydrated and dry skin




Oil cleanser helps rebalance your skin's hydration



Exfoliating with a gentle scrub helps increase skin's absorption levels

Layering serum and face balm

replenishes the skin and locks in moisture
Ingredients:
Moisturizing Cleanser: Sunflower Seed Oil*, Jojoba oil*, Avocado oil*, Evening Primrose oil*, Raspberry Seed oil*, GMO-free Vitamin E, Rosemary leaf extract, and therapeutic essential oils of: Bergamot, Lavender*, Frankincense* and Petit grain. *Certified organic ingredient. Our Bergamot is Bergamotene-free (not photo-toxic).
Exfoliator: Oat Flour*, Lentil Flour*, Flax Seed*, Lavender*, Violet flowers + leaves*, Green Tea Leaf*. *Certified organic ingredient.
Serum: Apricot kernel oil*, Pumpkin seed oil*, Jojoba Seed Oil*, Avocado oil*, Grape seed oil*, Pomegranate oil*, Raspberry seed oil*, Sea buckthorn oil*, Calendula oil*, Rosehip oil*, Borage oil*, GMO-free Vitamin E, Therapeutic essential oils of: Neroli, Frankincense, German chamomile, and Rose otto.*Certified organic ingredient
Face Balm: Camellia oil*, Apricot kernel oil*, Pumpkin Seed oil*, Avocado oil*, Beeswax*, Broccoli oil*, Pomegranate oil*, Raspberry seed oil*, Rose hip oil*, Borage oil*, Calendula infused in Sunflower oil*, Carrot Root extract*, Sea Buckthorn oil*, GMO-Free Vitamin E. *Certified organic ingredient