Pura Botanicals Cocoa & Rose Body Oil
Nourishing & Beautifying
120 mL



Please Note: The Pura Botanicals Cocoa & Rose Body Oil has a new lid! Now comes in a dropper format for ease of use. The product has not changed, but you may receive either of the lid types while we update our inventory.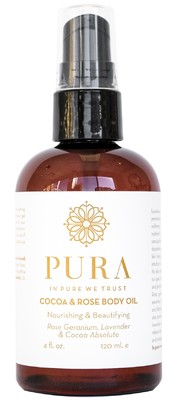 The Pura Botanicals Cocoa & Rose Body Oil is a luxurious, fast-absorbing body oil that penetrates the skin with all-natural, skin-softening and hydrating essential oils and nutrients. Exquisite cocoa absolute oil has a sensual and mouthwatering aroma. It stimulates dopamine in the brain, which creates a feeling like being in love, and increases focus and intuition, along with a sense of contentment. It's also antibacterial, anti-aging and is known to open the heart chakra, increase creativity and protect the skin from free-radical damage. Rose geranium is known as the 'cure-all' essential oil for women. It not only repairs and detoxifies the skin and treats cellulite, but also prevents premature aging. Calendula and lavender work together to calm inflammation, relieve dry, rough patches and reduce redness and irritation.
Wild harvested, sustainable, fair-trade ingredients. Handcrafted in small batches in Edmonton, Alberta, Canada. Gluten-free and cruelty-free. No synthetics, GMOs, parabens, phthalates, sulphates, mineral oils, preservatives, or artificial ingredients.

The Ritual
: Apply this nourishing body oil after bathing. Massage into the skin, especially where it tends to get dry, like the knees, elbows and the fronts of your shins. For deep mind, body and spirit gratification, blend two tablespoons of body oil with one cup of whole milk and add to a hot bath for a sumptuous botanical experience.

Ingredients
: Prunus Amygdalus Dulcis (Sweet Almond) Oil, Rose Pelargonium (Rose Geranium) Floral Water, Vanilla Planifolia (Vanilla) Oil, Lavendula Angustifolia (Lavender) Oil, Theobroma (Cocoa Absolute) Oil
Similar Moisturizers & Body Oils
Other Pura Botanicals Products