Pura Kiki Infant Bottle With Aqua Sleeve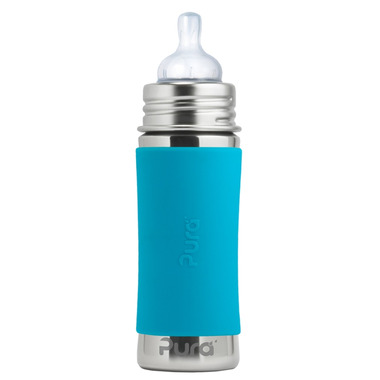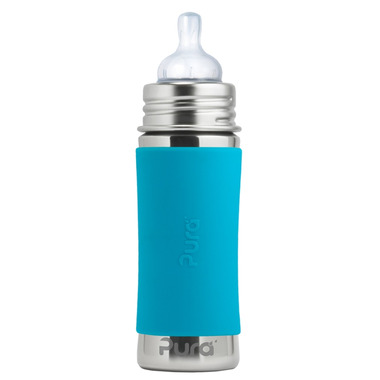 Pura Kiki Infant Bottle With Aqua Sleeve
The safest infant feeding bottle on the planet! This award winning 5oz Kiki infant bottle is 100% plastic-free, environmentally progressive, and adapts to the needs of your growing child. Both the bottle and collar are crafted from safe, high grade #304 stainless steel and the Natural Vent Nipple™ (slow flow) is made from medical grade silicone, so you can be sure that you are truly using a 100% BPA-free and toxin-free feeding system. As your baby grows, the bottle evolves, this bottle easily converts into a sippy bottle, straw bottle or small water bottle by simply swapping the nipple out for another Pura silicone lid

Features:
SAFE: only 100% plastic-free bottle on the market
Crafted from safe, anti-bacterial, #304 stainless steel and medical grade silicone
BPA-free and will not leach toxins like plastic bottles and rings
Wide neck slow flow Pura Natural Vent Nipple™ crafted from 100% medical grade silicone (patents pending)
Internal volume markings make measuring your child's milk or other beverage a snap. Each ounce is marked and can be seen by glancing inside the bottle
Compatible with wide neck nipples from Pura, ThinkBaby™, BornFree™, and Dr. Brown's™ and many others
Medical grade silicone bottle sleeve
Medical grade silicone nipple cover
Dishwasher safe and shatterproof
Lifetime warranty on stainless components
Roxanne:
more than a year ago
I love the quality of these bottles. We were using glass but found they brake to easily. Stainless steal with hospital grade silicone nipple are way worth the small investment.
I love that we can buy extra tops to upgrade from baby to toddler to child. This product will be in out household for years to come.
Page
1