Puracy Natural Carpet and Upholstery Shampoo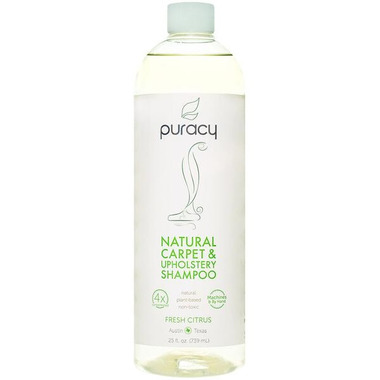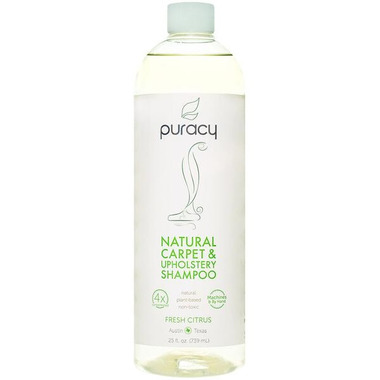 Puracy Natural Carpet and Upholstery Shampoo



Puracy 4x Natural Carpet & Upholstery Shampoo is a revolutionary carpet cleaning solution. Developed by doctors and powered by concentrated natural cleansers, they guarantee this product will safely clean any carpet, rug, or washable fabric you put in its path. Their unique blend will tackle hundreds of different stains, residues, odors, and spots without bleaching or discoloring fabrics. It can be used with a carpet cleaning machine and by hand. The formula is 100% family safe and non-toxic. Their professional strength formula was developed in a lab by a team of Ph.D. chemists with decades of experience working with green formulas, reviewed by a team of MDs to evaluate the overall safety, and finally tested by parents and carpet cleaning professionals for performance. With just 1 oz. of cleaner per 100 oz. of water, the head-to-head tests have proven our blend of plants and minerals can clean as well as those packed with harsh, petroleum-based chemicals.
Features:

Clinical grade ingredients rapidly remove stains, soils, and odors from carpets, rugs, upholstery, and other washable fabrics
The only natural carpet and upholstery shampoo on the market
Use with a carpet cleaning machine or by hand
Leaves your carpet feeling as soft as the day it was new
Safe on any washable surface your child or pet comes in contact with -4x concentrated formula (industry leading) reduces plastic, water, and energy waste by more than 75%
Low foaming, fast acting formula
Fresh Citrus: Sun ripened citrus groves provide a fresh reminder your home is clean
Developed by doctors, tested by professionals, trusted by parents everywhere
Naturally derived, hypoallergenic, non-toxic, vegan, gluten-free, and biodegradable
No SLS, SLES, sulfates, phosphates, animal by-products, chlorine, bleach, dyes, petrochemicals, caustics, or optical brighteners
Safe for gray water and septic systems
Never tested on animals; Certified Cruelty Free
The original hand-drawn artwork on this bottle helps support local artists
99.5% Natural
Pre-treat tough stains and pet accidents with Puracy Natural Stain Remover.
Directions:

Machines: Add hot tap water to clean water tank, add cleaner, gently shake. After shampooing, use hot tap water in clean water tank to rinse cleaner from surface.
By Hand: Mix warm water and cleaner in a bucket. Soak a clean cloth in bucket and gently agitate affected area. Repeat steps using fresh warm water and a clean towel to remove any cleaner from surface.
Ingredients: Purified Water, Decyl Glucoside (Plant-Based Cleanser), Octyl Dimethyl Amine Oxide (Plant-Based Cleanser), Lauramine Oxide (Plant-Based Cleanser), Tetrasodium Iminodisuccinate (Biodegradable Water Softener), Sodium Citrate (Plant-Based Softener), Coco-Glucoside (Coconut-Based Cleanser), Glyceryl Oleate (Plant-Based Softener), Benzisothiazolinone (Biodegradable Preservative), Pink Grapefruit Essential Oil, Zinc Ricinoleate (Natural Mineral-Based Odor Removal Agent)