PVL
PVL 100% Pure MCT Oil
Medium-Chain Triglycerides 946 mL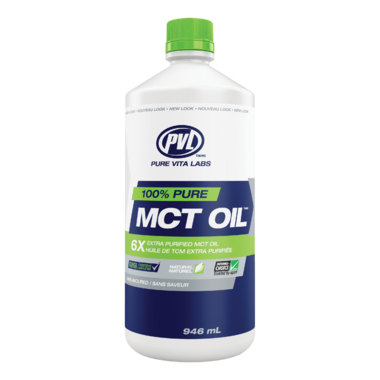 PVL
PVL 100% Pure MCT Oil
Medium-Chain Triglycerides
946 mL
---
Description
Recommended Purpose: 100% pure MCTs supply quick energy like carbohydrates can, yet MCTs are not carbs! So when your diet demands more energy without adding more carbs, ignite your body with MCT oil and go hard!

Nutritional Facts:
Per 15 ml:
Calories - 120
Fat (100% MCT's) 14 g
Ingredients:
100% fractionated coconut oil supplying 100% pure, true MCTs
( Medium Chain Triglycerides).

Suggested use: 1 tablespoon (15 mL) with food- may be used up to 3 times per day. First time: start with 1 teaspoon (5 mL) with food to asses your initial tolerance. Not to be used for frying. Can be used in baking, add to shakes, drizzle onto salads or already-cooked meals.