Radius Organic Coconut Whitening Toothpaste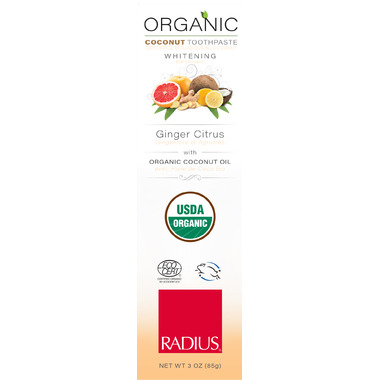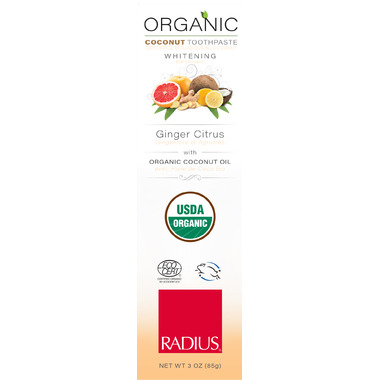 Radius Organic Coconut Whitening Toothpaste
Organic Ginger Citrus Whitening Toothpaste combines zesty, mint-free ginger, invigorating citrus, and the cleansing benefits of basking soda to offer a refreshingly simple, low-foam toothpaste that is both safe and effective.
Features:
Organic Coconut Oil base
No synthetic foaming agents
Chemical free
Completely GMO free
Instructions:
Brush teeth and gums in circular motion away from gums after each meal or at least twice a day. Do not use if foil seal is broken/missing.
Ingredients:
Organic Glycerin, Organic Coconut Powder, Organic Agave, Organic Coconut Oil, Organic Coconut Milk Powder, Calcium Carbonate, Organic Lemon Oil, Organic Rosemary Oil, Organic Guar Gum, Organic Grapefruit Oil, Organic Ginger Oil, Baking Soda, Organic Aloe, Organic Yacon, Salt, Organic Puzzlegrass, Water
Gluten Free, Organic, Non-GMO, Vegan