Radius
Radius Original & Scuba Adult Toothbrush Travel Case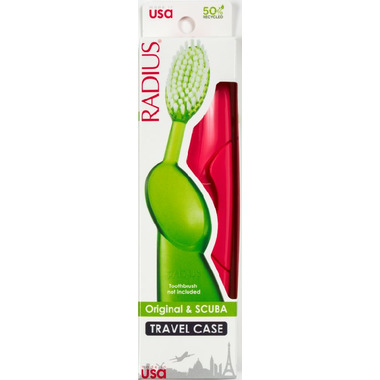 Radius
Radius Original & Scuba Adult Toothbrush Travel Case
Assorted Colours
Radius Original and Scuba Adult Toothbrush Travel Case
is rated out of
5
by
226
.
---
Description
The RADIUS Original/Scuba Toothbrush Travel Case is specifically designed to fit the Original/Scuba Toothbrush. Equipped with patented "living hinge" technology for easy opening and snap lock for secure closure. All RADIUS travel cases are guaranteed to last.

*Toothbrush not included.
Please note: The colour you receive may vary from the image shown.

Highlights

Rated

3

out of

5
by
PerryV
from
Loyal Radius Customer
I was a little surprised to learn that you no longer offer the 6 packs of the Original Radius Toothbrush is assorted colors and now I'm forced to purchased them individually with a case. This is incredibly wasteful because I don't need this many cases. I ordered 2 cases years ago and I still use the same ones when I travel. Please bring back the assorted color six packs with no cases.
Date published: 2022-12-30
Rated

5

out of

5
by
Anonymous
from
Fantastic!
I adore these toothbrushes and this year I included them in gift bags for 4 teenagers on my Christmas gift list, evangelizing for the Radius Big Brush cause. They are so cool and beautiful and my mouth feels amazing after I brush with them. I've used them for more than a decade, in fact pretty close to two, and I will never go back to little brushes. My one and only complaint is that Radius is not making more colored bristles. The yellow brush with yellow bristles was the BEST EVER, and the purple brush with purple bristles was AWESOME. These brushes should all be available with matching colored bristles! They are so artistic and unique. Colored bristles just make them more gorgeous. And we could all benefit from a little more gorgeous in our lives.
Date published: 2022-12-24
Rated

5

out of

5
by
Eric
from
Coming back with the Great Original Radius
I hope you come back with the six pack of these in the multi color or all one color and I will buy several 6 packs today.
Date published: 2022-12-14
Rated

5

out of

5
by
Anonymous
from
Top Notch Products
[This review was collected as part of a promotion.] Purchased two STANDARD TOOTHBRUSH CASE, one RAZOR TRAVEL CASE and the ORGANIC MINT ALOE NEEM TOOTHPASTE along with the SOURCE™ BRUSH. The products work well and are top notch. Haven't used the razor case yet but the toothpaste and source brush make your mouth feel clean and refreshing. Like the feeling of the soft flossing bristles on the Source™ Brush and the way ALOE NEEM TOOTHPASTE doesn't foam as the store bought brands. Will buy again, probably try the ORGANIC MATCHA MINT TOOTHPASTE. Thank you Radius for producing an alternative to commercial toothpaste.
Date published: 2022-04-25
Rated

5

out of

5
by
Briankimc
from
The Original! Finally back!
Thank you for bringing these back! It's the only thing my family uses! We have been buying from you since 2000 and don't use anything else!
Date published: 2022-12-13
Rated

5

out of

5
by
Rob
from
Great
Great toothbrush. Just don't need the travel case.
Date published: 2022-12-25
Rated

5

out of

5
by
Valerie
from
The best toothbrush is FINALLY back.
Yes, I'm giving this toothbrush FIVE STARS. I'd give it SIX if I could. Even without toothpaste you will get the most thorough cleaning imaginable! And I'm giving the company ONE STAR for making me waste money on their inferior brushes for the last few years. You owe me about a dozen brushes for free. Those white bristles NEVER got the job done, and they splayed and sometimes even fell out. I was literally on the lookout for a better brush, I had decided to never waste another penny on your lousy ones, when I got the email that you were bringing back the original. You know. The ONE THAT WORKS.
Date published: 2023-02-11
Rated

5

out of

5
by
Anonymous
from
Radius tooth brushes
[This review was collected as part of a promotion.] I've been using Radius toothbrushes since the mid 80's. I wouldn't dream of using any other type or brand of toothbrushes. So called regular toothbrushes feel like little skinny sticks. I'm surprised that someone hasn't stabbed themself with those old fashioned toothbrushes. As far as I'm concerned those old fashioned toothbrushes are useless compared to my Radius Flex or Scuba toothbrushes. I just bought a 6 pack of them for my Christmas present to myself. I've also kept all of my old Scuba brushes just in case.
Date published: 2020-12-17