Re-Play
Re-Play Bowls Aqua, Lime Green and Sunny Yellow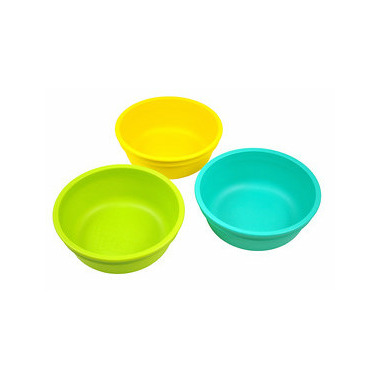 Re-Play
Re-Play Bowls Aqua, Lime Green and Sunny Yellow
Description
Re-Play Bowls are made in the USA, from recycled milk jugs. With funky bright colours and chunky shapes, Re-Play tableware is toddler tuff! Bowls come in a pack of 3 and are perfectly proportioned for your toddler. Finally a bowl that is sized just right…big enough for a child's meal portion, but small enough for snack times, too.
Features:
Made from milk jugs
Food Grade recycled plastic FDA approved
BPA-free
PVC-free
Phthalate-free
Melamine-free
Dishwasher safe
The use of recycled plastic reduces greenhouse gases and saves energy
The packaging is also made from recycled paperboard
The minimal package design does not use plastic blisters, twist ties or any other extra restraints that create more waste
Re-Play products are easy and fun for toddlers to use, unbelievably durable.
Dimensions: 4.9X4.9X1.8"