Re-Play Spill Proof Cups Aqua and Sunny Yellow
Re-Play Spill Proof Cups Aqua and Sunny Yellow
is rated out of
5
by
10
.
These colourful no-spill cups are the perfect sippy cups for kids on the go! The one piece, easy clean silicone valve keeps your toddler's milk or juice leak-free. All Re-Play no-spill cups are made from FDA approved sustainable HDPE recycled plastic. Not only are they better for your child, they are better for your environment!
Features:
Made from milk jugs
Food Grade recycled plastic FDA approved
BPA-free
PVC-free
Phthalate-free
Melamine-free
Dishwasher safe
The use of recycled plastic reduces greenhouse gases and saves energy
The packaging is also made from recycled paperboard
The minimal package design does not use plastic blisters, twist ties or any other extra restraints that create more waste
Re-Play products are easy and fun for toddlers to use, unbelievably durable.
Dimensions: 6.2X3.1X3.1"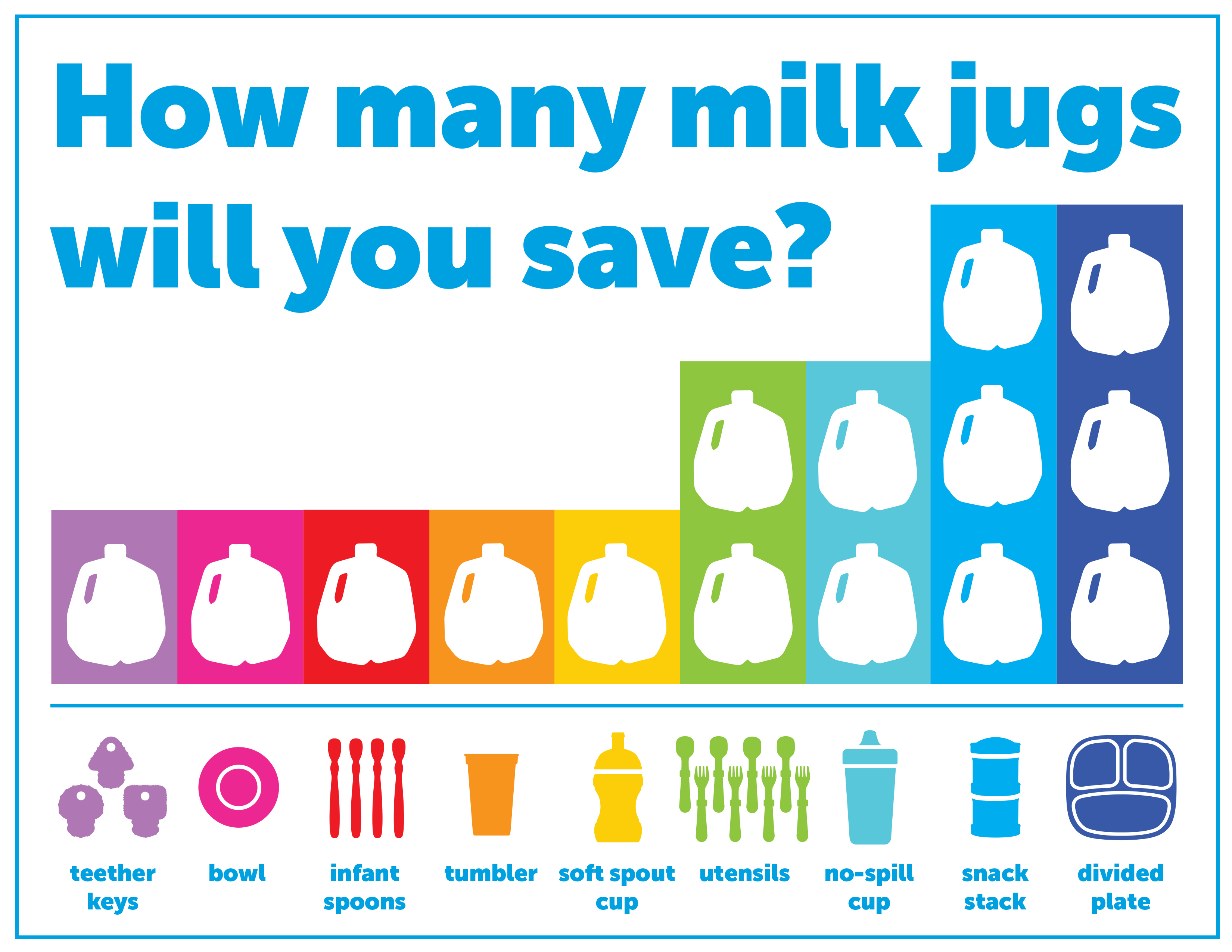 Similar Baby Dishes, Cups & Bibs
Rated

5

out of

5
by
TorontoG
from
Great cup, gasket piece needs separate washing
Nice and light for a toddler, which a bit of a textured exterior to make them easy to grip. One small downside: you have to remove and wash the little plastic gasket separately to get these totally clean (and ideally you need to scrub inside the hard spout as well, with a toothbrush or something similar, which is a bit of a pain). And you need to be careful to really screw the lids on to avoid leaks. But as long as you do, these cups will withstand being thrown on the floor, left upside down, etc. with not a drop leaking. I wish there were some less eye-burningly bright colours, but they're not bad. Sturdy and does the job - I even bought a second set.
Date published: 2021-07-13
Rated

4

out of

5
by
Rhea
from
These are a good option for playtime and bedtime - definitely spill-proof. My only qualm is that not much water comes out with each sip so my son doesn't get quite as hydrated as he does with other straw-type toddler cups.
Date published: 2019-04-12
Rated

4

out of

5
by
Kristen
from
These are amazing!! Took a bit of time for my son to understand how to use it - used it without the valve for a few days (obviously not leakproof during that time) so he'd understand the need to tip it back (had been using straw cups before these). I added the valve back and he can use them and NO spills!!! We had tried other straw cups (messy vacuum suction all over the place), 360 cups (son didn't get it) and now this one. We are in love!
Date published: 2018-08-25
Rated

5

out of

5
by
Christine
from
I've been using these cups for about 2 months and love them! They are leak proof with the valve on the lid, but I use it with no valve for the older kids. It's also a perfect size for travelling. No issues either with putting it in the dishwasher! A mommy must have!
Date published: 2018-08-02
Rated

5

out of

5
by
Marilena
from
Very Impressed!!!
I ordered these for our 22 month old a few weeks ago, and I'm so glad I did. These are by far the cups for us. Very little to no spillage when dropped or tossed. Durable and our son loves to drink from them. Cannot recommend them enough. Two thumbs up!!
Date published: 2020-05-28
Rated

5

out of

5
by
Dani
from
Amazing
They work really well, easy for her to drink and not get too much water. Easy to wash and take apart /put together. a little heavy when full but that's the weight of the water, she will get better at it I'm sure!
Date published: 2021-07-17
Rated

5

out of

5
by
Shanna
from
These are great. Sort of like the classic Tupperware cups. Good quality. They do leak sometimes but they're still better than a regular cup and for everyday use they're good enough.
Date published: 2018-10-10
Rated

2

out of

5
by
Vickijo
from
Not spill proof.
These are pretty and durable but they do leak, from the lip and the place where the cup screws to the top.
Date published: 2021-06-22