Rexall Triple Antibiotic Ointment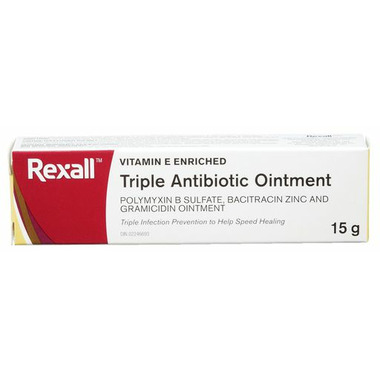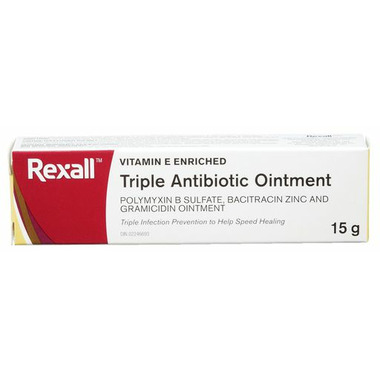 Rexall Triple Antibiotic Ointment
The Rexall Triple Antibiotic Ointment is vitamin E enriched and has 3 active ingredients for triple infection prevention and to help speed healing.

Medicinal Ingredients: Bacitracin Zinc, Polymyxin B Sulfate USP, Gramicidin

Non Medicinal Ingredients: Vitamin E, White Petrolatum

Directions: Clean affected area thoroughly. Apply a small amount of ointment (an amount equal to the surface area of the tip of the finger) on the area 1 to 3 times daily, as required.
May be covered with a sterile bandage.

Cautions: FOR EXTERNAL USE ONLY. Avoid contact with eyes. If this occurs rinse thoroughly with water. Do not apply over large areas of the body. In case of deep or puncture wounds, animal bites or serious burns, consult your physician. If irritation occurs or the condition persists or gets worse, stop use and consult your physician. Do not use longer than 1 week, unless directed by your physician.