Routine Baking Soda Free De-Odor-Cream Natural Deodorant Johnny's Cash
Baking Soda Free Clay & Beeswax Formula
58ml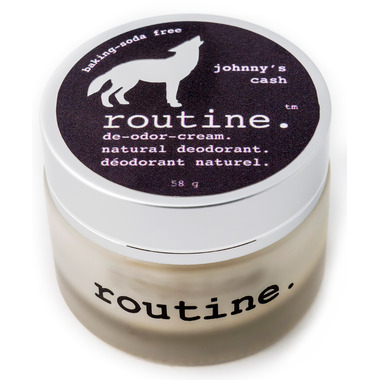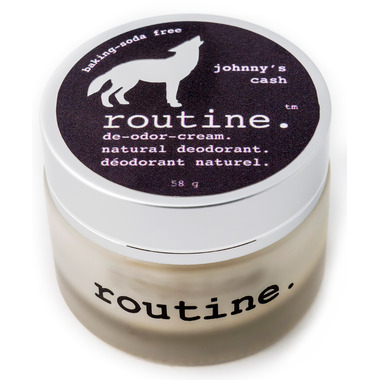 Routine Baking Soda Free De-Odor-Cream Natural Deodorant Johnny's Cash
Baking Soda Free Clay & Beeswax Formula
58ml
This Baking Soda Free de-odor-cream Johnny's Cash is routine's natural deodorant formulated with clay and beeswax for extra sensitive skin. It smells like the original Johnny's Cash scent: cedar, pine and lumberjack, with bass notes of rock n' roll.
While baking soda is not harmful, some people do have a sensitivity to baking soda as it is more alkaline than our bodies and can throw some people's pH levels off at certain times, resulting in skin sensitivities. In this formula the baking soda has been replaced with dietary magnesium, which works just as effectively as routine's original formulas. Many people are deficient in magnesium and a lack of magnesium can cause sweat to be stinkier. Using magnesium topically is highly effective.
Features and Benefits:
Clay naturally absorbs sweat
Consistency does not vary as beeswax acts as stabilizer (beeswax is from Alberta's own Nixon Honey)
Creamiest consistency
Sensitive skin formula, contains no baking soda
Each jar contains enough product for 3-6 months with regular use
Directions
: Gently smooth a pea size amount onto underarms (or feet). May cause irritation to freshly shaved underarms or sensitive skin.
Ingredients
: cocos nucifera (coconut) oil, magnesium hydroxide (dietary magnesium), kaolinite (kaolin clay), zea mays (corn, non-gmo) starch, maranta arundinacea (arrowroot powder), cera alba (canadian ethical beeswax), theobroma cacao (cocoa) seed butter, butyrospermum parkii (shea butter), calendula officinalis (marigold) infused olea europaea (olive) oil, tocopherol (vitamin e), flavor oils (organic blackberry, raspberry, citrus and vanilla), rosmarinus officinalis (rosemary) leaf extract.



Alicia:
a few months ago
The BEST deodorant I've ever used - natural or main stream. Keeps me dry & smelling nice all day long! Even in the summertime humidity.
Anything with baking soda irritates my skin and actually makes me sweat a lot. I was so happy to find this natural deodorant without it.
It has a nice smooth creamy texture that blends easily into my skin without leaving any greasiness or grittiness.
The scent is warm, cedar & musk - good unisex smell although it may be somewhat masculine for some some women. The fragrance is strong at first but fades quickly and lasts subtly all day.
Although it may seem a little pricey a little goes a very long way so I can see this jar lasting months. Its money very well spent.
Page
1