SBT Seabuckthorn Single Source Oil
Seabuckthorn Seed & Fruit Oil, Omegas 3 6 7 & 9
50 mL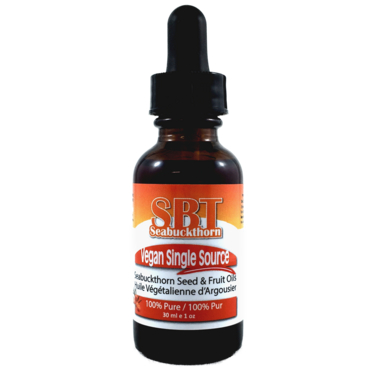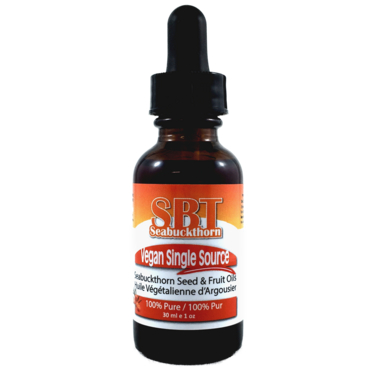 SBT Seabuckthorn Single Source Oil
Seabuckthorn Seed & Fruit Oil, Omegas 3 6 7 & 9
50 mL
Please Note: SBT Seabuckthorn has updated their packaging! The product remains the same, but you may receive either of the above shown packages while we update our stock.
A 50/50 blend of SBT Seabuckthorn Seed Oil and Fruit Oil that contains 41 carotenoids, 17 phytosterols, 8 phospholipids, full complex vitamin E, and sustainable plant sourced omegas 3 6 7 & 9. It is effective at soothing and healing mucous membranes including the treatment of dry eyes, irritable bowel syndrome, acid reflux disease, ulcers (oral and stomach), and vaginal dryness.
Single Source is also effective at reducing inflammation, joint pain & swelling, and LDL cholesterol and arterial plaque while improving vessel strength, increasing cardiovascular & brain circulation, boosting the immune system, and supporting healthy skin, hair, and nails. This oil has also been shown to improve skin conditions such as rosacea, acne, eczema, dermatitis, and psoriasis.
Features
:
Powerful anti-inflammatory that soothes heart, skin, digestive, mucosal, & mobility health
Sustainable plant sourced Omegas 3 6 7 & 9
USDA Organic Certified, non-GMO
Vegan & Cruelty Free
Can be taken internally & applied topically
100% pure – no carrier oils or fillers
Comes with dropper for easy usage
Directions
: Apply topically (dilute with carrier oil and apply to clean skin), or ingest orally (up to a 1/2 teaspoon per day).
Ingredients
: USDA Organic Seabuckthorn Fruit Oil, USDA Organic Seed Oil
Made in Canada, Gluten Free, Natural, Vegan, Soy Free, Nut Free, Sugar Free, Non-GMO, & Organic








Josee:
more than a year ago
At this point, I have tried all Sea Buckthorne oils in various ways. I use the seed oil directly on my face right after washing and then apply toner and moisturiser in the morning or serum and night cream before bed time. I also mix the single source and fruit oil with unscented Lubriderm and some essential oil for scent for use on my body. Frankly, the claims that it is miraculous are not exaggerated. I have had acne all my life and then really dull skin after menopause. I never expected to have beautiful skin and I now have it, at 53 years old! I don't recommend using the fruit or single source oil for the face as it is quite dark. But for the body, mixed in a commercial cream or integrated in a home made product, which I intend to try next, it is lovely. These oils truly are rejuvenating, a claim that I had never before believed nor verified for any product. And SBT is all Canadian, a plus.
Page
1