SBT Seabuckthorn Soothing Salve Bruises & Varicose Veins
Bruises, Spider & Varicose Veins
110 g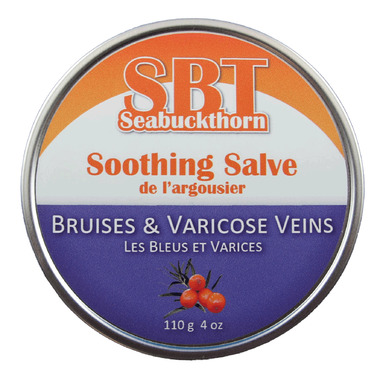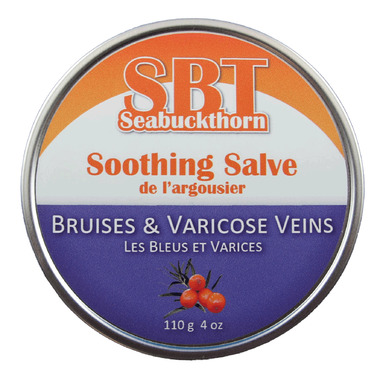 SBT Seabuckthorn Soothing Salve Bruises & Varicose Veins
Bruises, Spider & Varicose Veins
110 g
The SBT Seabuckthorn Soothing Salve Bruises & Varicose Veins was created to reduce the appearance, congestion, and pain associated with frequent bruising, spider veins, and varicose veins. The ingredients in this salve boast impressive anti-inflammatory, analgesic, anti-microbial, and circulatory decongestant properties. Sweet Birch, Plai, and SBT Seabuckthorn Seed and Fruit oils work to reduce pain and inflammation. Mastic oil decongests veins and broken capillaries while Lavender and Helichrysum oils diminish the appearance of bruising.
Features:

Diminishes the appearance of bruises, varicose veins, and spider veins
Temporarily relieves painful itch associated with varicose veins
Reduces inflammation, shrinks swollen veins, reduces appearance of dark spider veins
Directions: Diminishes the appearance of bruises and varicose veins naturally. Apply as often as required to relieve discomfort.
Ingredients: Coconut Oil, Candelilla Wax, Cocoa Butter, Organic SBT Seabuckthorn Seed Oil, Organic SBT Seabuckthorn Fruit Oil, Mastic Oil, Plai Oil, Sweet Birch Oil, Lavender Oil, Helichrysum Oil
Made in Canada, Gluten Free, Soy Free, Natural, Vegan, Nut Free, Sugar Free