SBT Seabuckthorn Sunburn Soothing Salve
Sunburnt & Under-hydrated Skin
110 g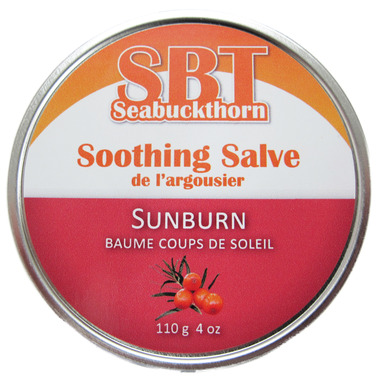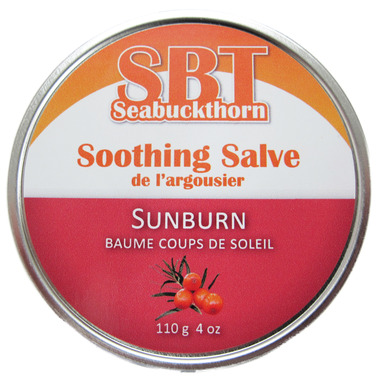 SBT Seabuckthorn Sunburn Soothing Salve
Sunburnt & Under-hydrated Skin
110 g
SBT Seabuckthorn Sunburn Soothing Salve is a natural treatment for sunburned skin. Meadowfoam, Pomegranate, Lavender, and Sea buckthorn Oils work synergistically to calm and cool skin that has been overexposed to the sun's UVA and UVB rays. Application immediately after exposure will reduce redness and diminish flaking and peeling. Application after sun exposure will help to get rid of painful inflammation, restore moisture, and quickly turn your burn into a tan.
Features:
Immediately reduces redness and flaking
Soothes and cools sore sunburned skin
Provides a natural barrier to lock in moisture and prevent against further damage
Turns a burn into a tan quickly while reducing redness & peeling
Directions: Apply to skin that has been overexposed to the sun's UVA and UVB rays. For best results shower/bathe quickly after exposure to slow burn then apply soothing salve.
Ingredients: Coconut Oil, Candelilla Wax, Cocoa Butter, Organic SBT Seabuckthorn Seed Oil, Organic SBT Seabuckthorn Fruit Oil, Pomegranate Oil, Meadowfoam Oil Lavender Oil
Made in Canada, Gluten Free, Soy Free, Natural, Vegan, Nut Free, Sugar Free








Cheryl S:
more than a year ago
I am really pale. I am super sensitive to the sun and I burn a couple times a summer. This is my go to product for sunburn. It's amazing, it will take you from lobster to dark pink over night (avoid the sun that day, you still be sensitive to direct sunlight). But after 2 nights of use, you will look much better.

Be mindful, this is a very greasy product. Do not put it on right before bed, let it soak in a bit first and I would recommend putting something down on your bed so you don't get it everywhere. I have used an extra pillow case or a towel.
Page
1