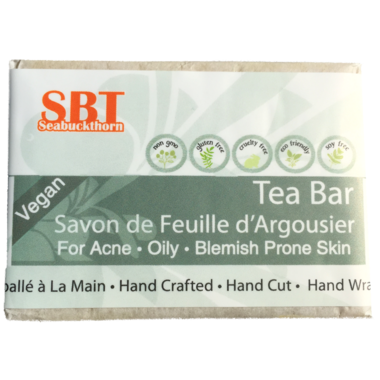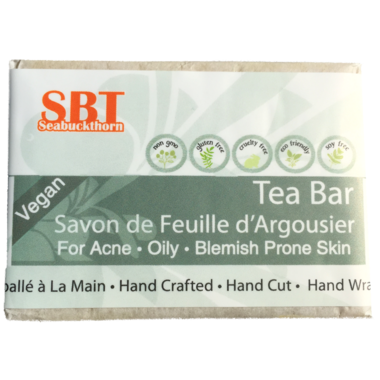 Please Note: SBT Seabuckthorn has updated their packaging! The product remains the same, but you may receive either of the above shown packages while we update our stock.

SBT Seabuckthorn Tea Bar is a deep cleansing yet gentle handcrafted facial cleansing bar suited for those with acne, oily, combination, & blemish prone skin. Seabuckthorn leaf extract & oils reduce redness, balances sebum, banishes blemishes, reduces inflammation, and stops the painful itching often associated with acne and breakouts. This cleansing bar is packed with nourishing plant omegas & antioxidants as well as vitamin e that helps to reduce scarring & red marks. Seabuckthorn leaf extract adds quercetin, calcium, protein, magnesium, potassium, and salicylic acid are all well-known nutrients that effectively reduce inflammation and treat acne while nourishing your skin as you cleanse. Suitable for combination & oily skin, blemish prone skin, and acne.
Features
:
Treats & prevents breakouts and blemishes
Seabuckthorn oils help to treat scarring
Tightens pores, tones skin, and revitalizes a healthy glow
Nourishes & reduces inflammation
Non-GMO, Cruelty Free, Eco-friendly, Vegan, & Handcrafted in Canada
Ingredients
: Seabuckthorn Tea Extract, Cocos nucifera (Coconut) Oil, Olea eurpaea (Olive) Oil, Purified Water, Organic Hippophae Rhamnoides (SBT Seabuckthorn) Seed Oil, Ricinus communis (Castor) Oil, Sodium Hydroxide (Soda) Crystals*
*none remains after saponifying
Directions
: Cleanse with warm water. For best results work soap into a rich lather and use suds to cleanse face.
Made in Canada, Gluten Free, Soy Free, Natural, Vegan, Nut Free, Sugar Free