Schmidt's Deodorant Fragrance-Free Sensitive Skin Deodorant Travel Size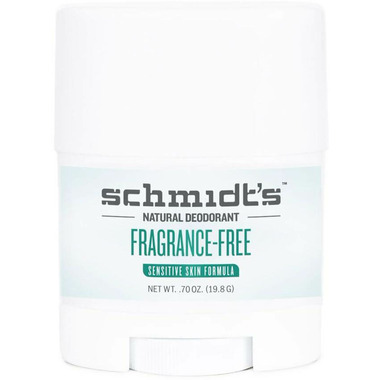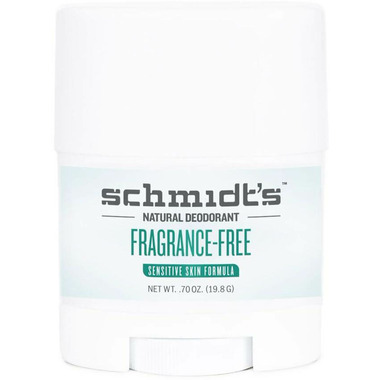 Schmidt's Deodorant Fragrance-Free Sensitive Skin Deodorant Travel Size
Schmidt's Deodorant Fragrance-Free Sensitive Skin Deodorant is a must-have for those seeking powerful deodorant protection and a luxurious experience without scent. Schmidt's Fragrance-Free Sensitive Skin Deodorant has plant-based powders to help absorb wetness without the use of aluminum, and helps neutralize odor naturally.
Features:
Free of aluminum, propylene glycol, parabens & phthalates;
No artificial fragrance;
Non-greasy, non-sticky feel.
Easily absorbed; application requires only a small amount
Certified Vegan, Cruelty-free, and Gluten-free
Directions:
Apply gently to underarms as needed. Do not overapply.
Ingredients:
Magnesium hydroxide, Cocos Nucifera (coconut) Oil, Maranta arundinacea (arrowroot) powder, Butyrospermum parkii (shea butter), Caprylic/Capric Triglyceride (fractionated coconut oil), Simmondsia Chinensis (Jojoba) Seed Oil, Euphorbia Cerifera (candelilla) Wax, Tocopherol (vitamin E)
Magnesium hydroxide, Cocos Nucifera (coconut) Oil, Maranta arundinacea (arrowroot) powder, Butyrospermum parkii (shea butter), Caprylic/Capric Triglyceride (fractionated coconut oil), Simmondsia Chinensis (Jojoba) Seed Oil, Euphorbia Cerifera (candelilla) Wax, Tocopherol (vitamin E)