Sensuva
Sensuva ON Natural Arousal Oil for HER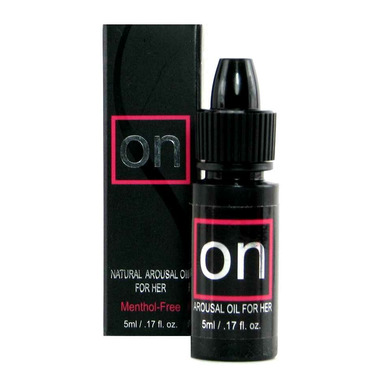 Sensuva
Sensuva ON Natural Arousal Oil for HER
Description
ON, Natural Arousal Oil for Her, increases orgasm intensity, duration and frequency. Designed to enhance intimacy, ON uses an all natural botanical blend of essential oils to create feelings of natural arousal and increased wetness in most women.

ON is perfect for women who are looking for more excitement in their love life or who need a little extra help with the feelings of natural sexual desire and arousal.

A drop of two of ON applied directly to the clitoris creates a clitoral "buzzing" and increases wetness in most women. This exciting combination of arousal and heightened sensitivity leads to more intense orgasms for a deep, pleasurable sexual satisfaction. It also makes for stronger, longer lasting orgasms.

Using only the finest ingredients and essential oils from around the world, ON uses the same botanicals that have been used for centuries – but never like this! When topically applied directly to a woman's clitoris, ON's proprietary blend of essential oils creates a natural excitement in the form of a delicious tingling that actually pulses with pleasure.

ON can be used anywhere – with a partner or without. It is completely edible, too, and won't interfere with any complimentary foreplay.

If you want more control over your libido and sexual satisfaction, get turned ON now. Embrace your sexuality, regardless of age. Let ON take you to the next level of orgasm.

Notes: Sensation usually peaks around 2 minutes, with effects lasting up to 45 minutes. Not for use with condoms.
Highlights