Seventh Generation Fabric Softener Sheets
Blue Eucalyptus & Lavender
80 sheets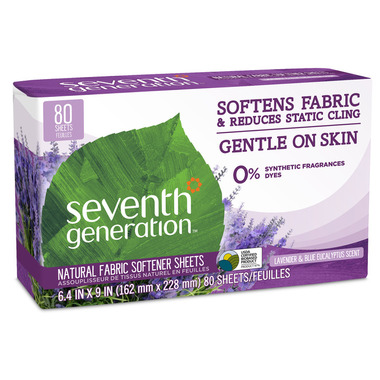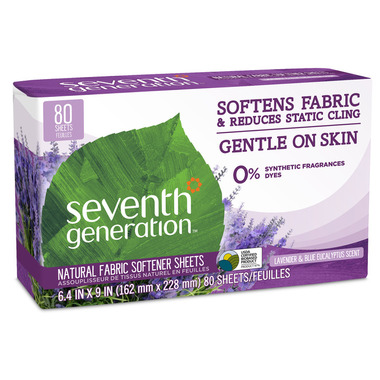 Seventh Generation Fabric Softener Sheets
Blue Eucalyptus & Lavender
80 sheets
Seventh Generation Fabric Softener Sheets use plant-based ingredients and essential oils for a cozy softness that will really make you feel good. These fabric softener sheets are made from unbleached paper, so instead of adding them to a landfill when they're done, you can recycle!
Features:
Compostable
Softens & Reduces Static
Fragranced with plant-based essential oils and botanical extracts
No Animal Ingredients
Softener Sheets redesigned for even better static control
Sheets made from unbleached paper, not plastic
USDA Certified Biobased Product (97%)
Paperboard packaging made from 100% recycled content

Directions:
Use a single fabric softener sheet with each load of laundry. Pull sheet apart at perforation to reduce the risk of blocking dryer vents. For smaller loads, try using half a sheet. Place in dryer with wet clothing. Compost used sheets.
Ingredients:
Palm fatty acid (plant-derived softener), di-(palm carboxyethyl) hydroxyethyl methylammonium methyl sulfates (plant-derived softener).
Blue Eucalyptus & Lavender Fragrance*: Eucalyptus dives, lavandula angustifolia (lavender) oil, lavandula hybrida (lavandin) oil, pinus sylvestris (pine).
*Linalool and d-Limonene are components of these fragrance ingredients.
Natural, Vegan, Gluten Free