Seventh Generation Natural Laundry Detergent Packs Free & Clear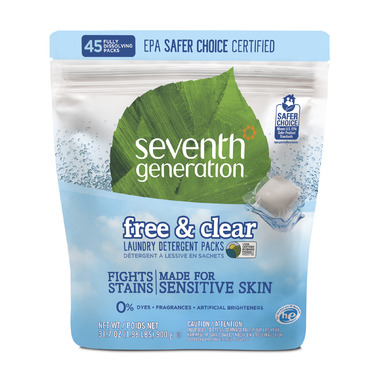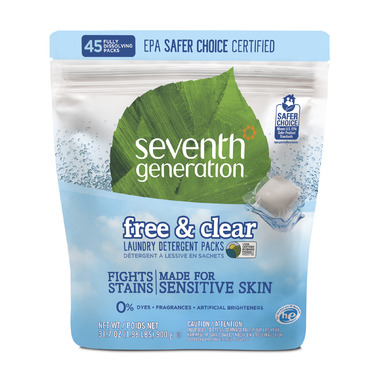 Seventh Generation Natural Laundry Detergent Packs Free & Clear


Seventh Generation Natural Laundry Detergent Packs are the perfect solution for families looking for a convenient laundry detergent that is safe while delivering a no-compromise clean. Seventh Generation's laundry soap packs are made for sensitive skin and have enough strength to fight tough stains with it's four enzyme formula.
Features
Four Enzyme Formula to Fight Tough Stains
Safer Choice Seal : tested and approved by the EPA as a Safer Choice
0% Fragrances, Dyes, Artificial Brighteners
Phosphate free
For HE & standard machines and all water temperatures, cold & hot
How to Use:
SORT: In HE or standard machines, drop one pack DIRECTLY INTO WASHING MACHINE before adding clothes. For larger or heavily soiled loads, use two packs. Re-seal package and store in a dry place, out of reach of children. Do not handle pack with wet hands. Septic Safe.

Ingredients: Sodium citrate (plant-derived water softener), sodium carbonate (mineral-based cleaning agent), laureth-6 (plant- derived cleaning agent), hydrated silica (mineral-based flow aid), cocos nucifera (coconut) oil (plant-derived anti-foaming agent), protease (plant-derived enzyme blend soil remover), amylase (plant-derived enzyme blend soil remover), mannanase (plant-derived enzyme blend soil remover), cellulase (plant-derived enzyme blend soil remover); Film: polyvinyl alcohol (synthetic water-soluble film), glycerin (plant-derived processing aid)
Caution: Injurious to eyes
Natural, Vegan, Gluten Free, Kosher