ShiKai
ShiKai Henna Gold Highlighting Shampoo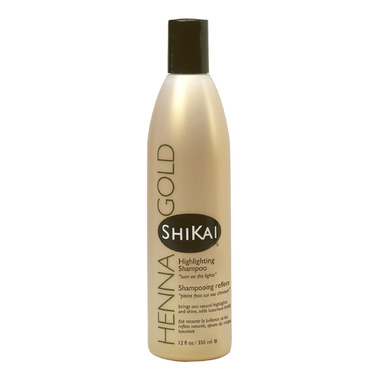 ShiKai
ShiKai Henna Gold Highlighting Shampoo
355 mL
ShiKai Henna Gold Highlighting Shampoo
is rated out of
5
by
1
.
---
Description
These products reflect light -- just like cellophane. A clear and highly reflective coating on each hair shaft reveals hidden colors and brings out shimmering highlights. This coating doesn't change color in any way and works equally well on all hair, whether natural or treated. These products also add soft body and texture and manageability. Henna is soluble in water and washes out easily. No build-up to dull or dry hair.
Highlights

Rated

4

out of

5
by
Hannah
from
A Pretty Neat Experiment
I wish I could give this 3.5 stars but I'm opting to be generous and go with 4. Let me start by saying this is unlike any shampoo I've tried before, firstly I generally pick shampoo/bodywash at least partly based on scent, this had no scent in the product description and I'll be honest, I'm not a fan of the smell. To me it's got a kind of chemical scent that I'm not a fan of. It's also not creamy like most shampoos I use are, it's got an almost jelly-like texture that took a while for me to get used to. That being said, it lathers nicely and I do feel that it cleans my hair. Does it highlight my hair? YES. But it took a few times of using it for me or anyone else to notice. It's not like a dye-job that's totally obvious, but it is there. I also found it works best if I leave it in my hair for a while before rinsing it out, or do two washes with it. All in all I think it's pretty cool, I've never used anything like that before and I like what it does to my hair without requiring an expensive or permanent process. Also I'm so glad it actually cleans my hair, because I was worried about that, but it feels good.
Date published: 2022-05-16