Simple Kind to Skin Micellar Cleansing Water
Simple Kind to Skin Micellar Cleansing Water
is rated out of
5
by
434
.
Gently cleanse and hydrate skin. Simple® Micellar Cleansing Water is the most advanced yet gentle facial cleanser to date. With micellar technology and skin-loving ingredients, Simple® Micellar Cleansing Water is gentle and effective. This micellar water removes makeup, gently cleanses, unclogs pores, hydrates and conditions skin. This innovative facial cleanser contains skin-loving ingredients, including Vitamins B3 and C, and contains skin-caring agents often found in moisturizers.

Micellar Cleansing Water from Simple® is a gentle cleanser that leaves skin clean, fresh and instantly hydrated. The many beauty benefits offered by Simple® Micellar Cleansing Water make it easy to see why this gentle facial cleanser should be part of your daily skincare routine. It not only thoroughly cleanses skin of dirt and impurities, it also instantly boosts skin's hydration by 90%! It also has a pH that is in balance with skin's natural pH level, making it a gentle cleanser that effectively cleanses your skin without making it feel tight and uncomfortable.

It's not just what's in your cleanser that counts though, it's also what's not in it! Simple® micellar water contains no artificial perfumes or dyes or animal-derived ingredients and no harsh chemicals that can upset your skin. Micellar water is also hypoallergenic, paraben-free, dermatologist tested and non-comedogenic, so you can feel great knowing you're treating your skin the way it deserves to be treated. This gentle cleanser is suitable for all skin types, especially sensitive skin.

What is Micellar Water? Originating in France, Micellar Water consists of tiny oil molecules suspended in water. The oil molecules quickly adhere to and absorb dirt and make-up molecules on your skin.
Directions: Simply apply it with a cotton pad to remove makeup, unclog pores and cleanse skin with no residue and no rinsing required – skin is left clean and refreshed. For best results follow with Simple® Replenishing Rich Moisturizer.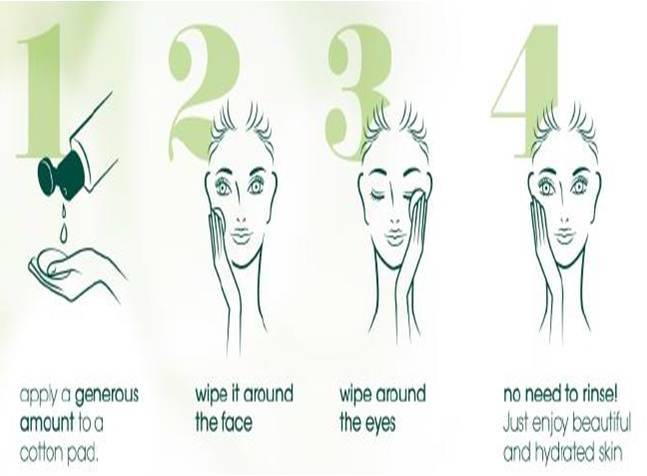 Rated

5

out of

5
by
melste
from
I've never used a cleansing water before and was a little sceptical that it would do a good job cleaning without having to be rinsed off, but I was pleasantly surprised. It does feel like water, there's no residue left behind on my face, and it cleanses my skin quite well. If I was wearing heavier makeup, it may not do as good a job and wouldn't give me that deep pore cleasing I'd want, but for everyday use it works well. I often find toners are either ineffective or too strong for my skin, but the cleansing water was nice and gentle, effective, and left my skin feeling fresh. Great product! (This review was collected as part of a promotion.)
Date published: 2016-03-26
Rated

4

out of

5
by
dicicco
from
I am new to the idea of Micellar cleansing water, but I had originally received the Garnier one from ChickAdvisor and I loved the whole idea. When I first tried the Simple brand I didn't really notice a difference between the two. They both leave my skin so hydrated and feeling silky. The only thing I noticed is the Garnier one was better at removing my makeup from the sensitive part of skin under my eyes very easily as the Simple brand had to go over it multiple times and it kind of smeared my makeup more then remove it. The only other difference would be the price point which makes sense. (This review was collected as part of a promotion.)
Date published: 2016-03-22
Rated

4

out of

5
by
mel0159
from
I received this product for testing purposes through the Chic Advisor product review club. This is now the third brand of cleansing water that I have tried and I have to say that I am impressed with the Simple Miscellar Cleansing Water. It feels a lot more gentle on my sensitive skin than other brands and does not seem to leave my skin dry. In saying that it still has the same level of grime/makeup removal power as the other brands. Micellar water has now replaced my old cleansing routine (cleanser & water) and Simple is the brand I am sticking with! It has a GREAT price point and is a find! (This review was collected as part of a promotion.)
Date published: 2016-03-19
Rated

5

out of

5
by
SweetPanda
from
I have received this product for free as being a member of the ChickAdvisor Product Review Club. This is the first time I try out this product. I read the instruction and I use my regular cotton pad with this cleansing water. It is very easy to use and my skin feel fresh after using it. It removes all the makeup on my face fairly quickly and I don't see that it left any residue on my face. I love that after using this cleansing water, I don't need to wash my face afterwards since it did truly remove all my makeup. I like this product and I will certainly recommend it to my friends. (This review was collected as part of a promotion.)
Date published: 2016-03-24
Rated

5

out of

5
by
ReallyRiley
from
I love that we now have an alternative to heavy and/or abrasive face cleansing products that strip away moisture leaving my face feeling tight and extremely dry. The heavy creams always leave my face feeling greasy and cause breakouts. This product is awesome. I can use it on my entire face including my eyes without any irritation. It left my skin clean and refreshed. No heavy perfumes etc are a huge plus! The price is fantastic when compared to other products of this type. I received Simple Micellar Cleansing Water free of charge from Chick Advisor in exchange for my honest review. (This review was collected as part of a promotion.)
Date published: 2016-04-06
Rated

4

out of

5
by
SleighOfNugs
from
I received this product compliments of the ChickAdvisor Product Review Club, which is lucky for me as i may not have tried this product. It works surprisingly well, and you don't have to rinse it off afterwards (read: time saver). While I don't have sensitive skin, it left mine touchably soft and smooth. It also didn't exacerbate my very dry skin. I do find that it works better on dry skin than wet, and that it works better if used along with the Micellar Makeup Remover Wipes. It's cheaper than other Micellar cleansers I've seen, and it's convenient and effective; it's nice to have both! (This review was collected as part of a promotion.)
Date published: 2016-03-28
Rated

5

out of

5
by
teanailpolish
from
I recently tried Simple's Micellar water as part of the Chick Advisor Product Review Club but have used it before. If you have ever wanted to try Bioderma's Micellar Water but are put off by the price, Simple's is a great drug store alternative. It cleanses the skin and can remove makeup and I actually found it better at removing makeup than the wipes. I often use it to make sure I removed all makeup and give a quick cleanse before bed if I have removed my makeup and washed my face hours before. *Received free for testing purposes as part of the Chick Advisor Product Review Club** (This review was collected as part of a promotion.)
Date published: 2016-03-29
Rated

5

out of

5
by
michelef
from
Do yourself a favor and buy a bottle right now. This stuff is amazing. It's gentle but effective and easily removes makeup, dirt, you name it. It doesn't remove my eye makeup, but it does remove the residue left behind by my eye makeup remover. This stuff is great for those lazy mornings/nights when you don't feel like washing your face, or for when your skin just needs some refreshment. The price is a bit of a downer (it varies from store to store), only because I feel like it's easy to run through a bottle pretty quickly. Worth it overall, and it even comes in wipe-form now. Looooove. (This review was collected as part of a promotion.)
Date published: 2016-02-07