Simple Kind To Skin Eye Makeup Remover Pads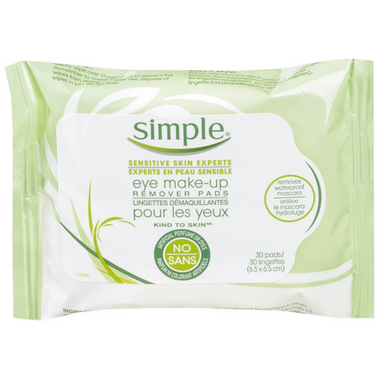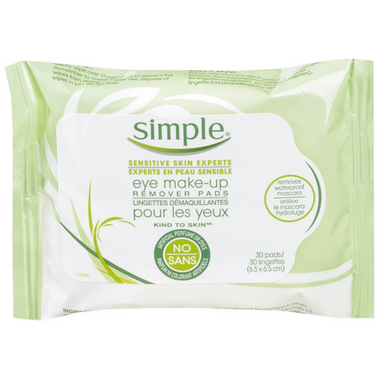 Simple Kind To Skin Eye Makeup Remover Pads
Tough on mascara, gentle on lashes. Simple® Eye Make-up Remover Pads wipe away long wearing eye make-up including liner, eye shadow and water-proof mascara. They use the purest possible skin-loving ingredients to be gentle on your lashes while effectively leaving your eyelids cleansed. Conveniently packaged in wipe form they are perfect for when you are traveling, at the gym, or on-the-go, no water required!

Made with Skin-loving ingredients Simple Make-up Remover Pads are gentle to lashes thanks to their unique formula and also contain Pro-Vitamin B5 and Vitamin E. These pads restore skin back to soft and smooth and help moisturize skin helping to improve skin condition. Therefore not only are you removing your makeup but helping to condition your eyelids and lashes for better skin and also a smoother surface for makeup application. Refresh and Instantly hydrate with Triple-Purified Water. Simple® skincare products use water that's been through a multi-step purification process, which helps to nourish and instantly hydrate your skin by boosting its natural self-hydration. The triple-purified water helps minimize the risk of potential skin irritation by removing particles and contaminants which may to irritate skin.

Made without skin-upsetting ingredients. It's not just what's in your skin care products that counts though, it's also what's not in them! Simple® Eye Make-up Remover Pads are paraben free and contain no artificial perfumes, no dyes, and no animal derived ingredients. These eye makeup wipes are also non-comedogenic and hypoallergenic adding softness and hydration without leaving it greasy. So you can feel great knowing you're treating your skin the way it deserves to be treated.

This wipe form of eye makeup remover is suitable for all skin types, especially sensitive skin. Directions: Gently wipe over closed eyes. Remember to reseal the pack to prevent wipes from drying out. After use, dispose of wipes in bin, do not flush. Use daily.
Ingredients: Water, Cetearyl Isononanoate, Panthenol, Tocopheryl Acetate, Glycerin, Ceteareth-20, Cetearyl Alcohol, Phenoxyethanol, Glyceryl Stearate, Cyclopentasiloxane, Methylparaben, Disodium EDTA, Ceteareth-12, 2-Bromo-2-Nitropropane-1,3-Diol, Propylparaben, Sodium Citrate, Pantolactone, Citric Acid.