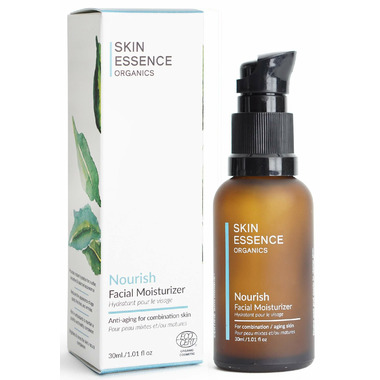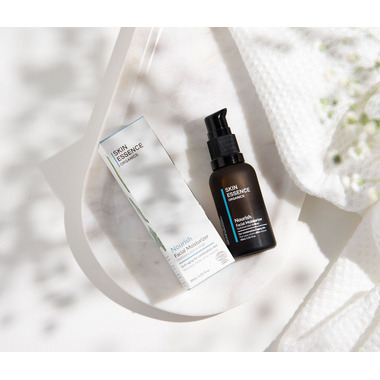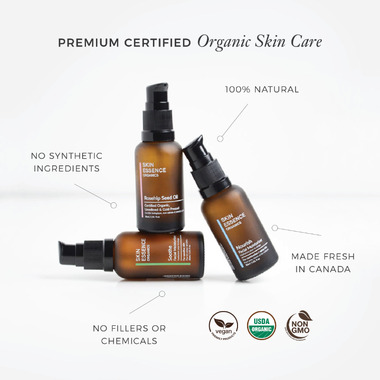 Description
This concentrated facial moisturizer offers ideal hydration for those with combination/normal skin type and has been formulated to improve the skin's overall texture and elasticity by uniting carefully selected, concentrated organic ingredients that reduce the signs of aging resulting in a healthy, even complexion.
The nourishing extracts and minerals that have been carefully selected for this serum are very beneficial for combination skin types, that may also be damaged or aging. The abundant amount of Rosehip and Neroli used in this serum are phenomenal for skin cells.
Features
:
Provides hydration for a softer, smoother and more balanced looking appearance
Helps reduce the appearance of fine lines & wrinkles
Rich in antioxidants to maintain a youthful and healthy looking complexion
Naturally brightens, tones & soothes combination skin
This oil based moisturizing serum offers deep absorption and a complete hydration.
Made fresh in Canada

100% Natural

No filler or chemicals

No synthetic ingredients

Directions:
Always make sure the serums are shaken well before applying so that all of the key ingredients are present in each application. To ensure deep absorption, massage the serums into the skin thoroughly.
Tip-
After cleansing your skin and before applying the serum, splash your face with cool water. This will help to close your skin's pores and the water on the face will also allow the serum to spread easily and evenly. Water also has a natural capillary action, which will help to pull the vitamins and minerals into your skin, leaving a healthy glow! (Each serum takes about 5 minutes to fully absorb)
Prefer a lighter hydration? Simply add a couple of drops of water to 1-2 pumps of this moisturizing serum on the palm of your hand, before applying to your face. The more water you add, the lighter the hydration will be. This oil-based moisturizers are fully customizable to help you get the right hydration for your skin and the weather changes.
For optimum freshness, use within 6 months of opening
Ingredients: Jojoba Seed Oil*, Rosehip Seed Oil*, Macadamia Nut Oil*, Apricot Kernel Oil*, Orange Oil*, Kukui Nut Oil, Neroli Flower Oil*, Tocopherol (Vitamin-E)*, Jasmine oil*, Evening Primrose Oil*, Zinc Oxide (Non-Nano)
Highlights

Features
Provides hydration for a softer, smoother and more balanced looking appearance
Helps reduce the appearance of fine lines & wrinkles
Rich in antioxidants to maintain a youthful and healthy looking complexion
Naturally brightens, tones & soothes combination skin
This oil based moisturizing serum offers deep absorption and a complete hydration.
Made fresh in Canada

100% Natural

No filler or chemicals

No synthetic ingredients

Ingredients
Jojoba Seed Oil*, Rosehip Seed Oil*, Macadamia Nut Oil*, Apricot Kernel Oil*, Orange Oil*, Kukui Nut Oil, Neroli Flower Oil*, Tocopherol (Vitamin-E)*, Jasmine oil*, Evening Primrose Oil*, Zinc Oxide (Non-Nano)