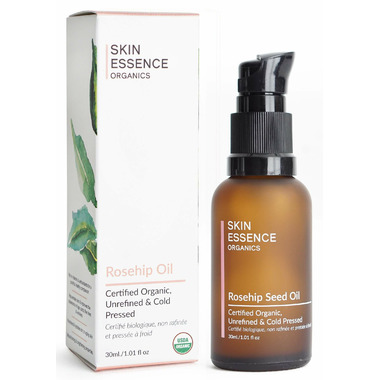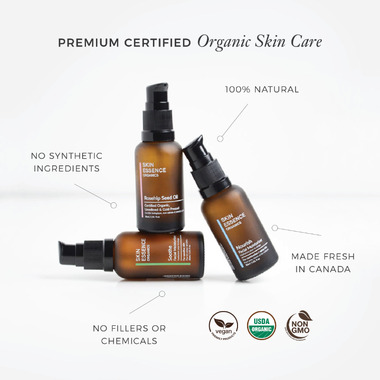 Description
Skin Essence Organics 100% pure certified organic Rosehip Oil is cold pressed and contains one of nature's richest sources of essential fatty acids (Omega 3 & 6), vitamins and antioxidants. It is a potent anti-aging facial oil with more vitamin C than an orange or lemon!
It can be used for naturally toning the skin, minimizing the appearance of fine lines and wrinkles, brightening the skin's complexion, and improving the skin's moisture levels, leaving your skin looking radiant and with a healthy glow.
Rosehip Oil also naturally contains vital skin nutrients that studies have shown may help to slow the signs of aging. This can result in firmer, smoother, and more youthful looking skin with daily use.
Features:
Nourishes and hydrates all skin types
Rich in antioxidants & vitamins for a youthful, healthy looking glow
Reduces the appearance of age spots, fine lines, wrinkles
Reduces UV light damage caused by free radicals
Supports collagen

Can be used on dry and damaged hair - Simply massages the Rosehip oil onto the scalp, leave it on for 20-30 minutes then shampoo and wash out.
Makes hair healthy and more hydrated without leaving an oily finish.
Strengthens nails
Provides a beautiful, natural and healthier looking glow to the skin.
Certified Organic
Cold pressed, unrefined
100% Natural
No synthetic ingredients
Made fresh in Canada
No filler or chemicals

Directions
: Rosehip is a wonderful hydrator, and penetrates deep into skin. This oil may be used straight from the bottle as a moisturizer, but for optimal results and benefits, we recommend blending it with one of the Skin Essence facial moisturizers in a 50/50 ratio. Since it is such a gentle oil, rosehip is also an excellent choice for those with sensitive skin.

Ingredients:
100% Pure Organic Rosehip Oil*
Highlights

Features
Nourishes and hydrates all skin types
Rich in antioxidants & vitamins for a youthful, healthy looking glow
Reduces the appearance of age spots, fine lines, wrinkles
Reduces UV light damage caused by free radicals
Supports collagen

Can be used on dry and damaged hair - Simply massages the Rosehip oil onto the scalp, leave it on for 20-30 minutes then shampoo and wash out.
Makes hair healthy and more hydrated without leaving an oily finish.
Strengthens nails
Provides a beautiful, natural and healthier looking glow to the skin.
Certified Organic
Cold pressed, unrefined
100% Natural
No synthetic ingredients
Made fresh in Canada
No filler or chemicals

Ingredients
100% Pure Organic Rosehip Oil*