Sliquid Silk Intimate Hybrid Lubricant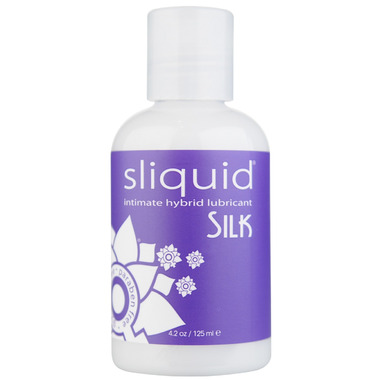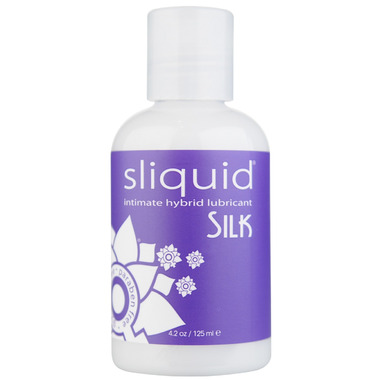 Sliquid Silk Intimate Hybrid Lubricant
Sliquid Naturals Silk is a water based personal lubricant blended with cream emollients and silicone to create a unique hybrid lubricant.
Starting with Sliquid's ever popular Naturals H2O water base, and blended with 12% silicone and creamy emollient esters, Naturals Silk is all that a water based personal lubricant can be, with the added longevity of a silicone lubricant.
As always, Silk is glycerin and paraben free, and is perfect for couples or for solo use. Silk is easy to clean up and has a luxurious creamy texture.
All Sliquid products are formulated by sensitive women, for sensible women, and will never cause yeast infections or UTI's.

Features:
Purified water and silicone blend
100% Vegan friendly
Long lasting and easy to clean up
Glycerin free and paraben free
Hypoallergenic and non-toxic
Latex friendly and loves rubber
Non-staining, unflavored and unscented
Uniquely blended to enhance your body's own natural lubrication
Ingredients: Purified Water, Plant Cellulose (from Cotton), Isopropyl Palmitate, Polysorbate 20, Dimethicone, Emollient Ester, Potassium Sorbate

Florence:
more than a year ago
I work in an erotic boutique and was selling this product a lot since it looks so awesome when used on your hands. I finally decided to give it a try and was so, OH so disappointed! It only lasts for about 5 minutes before it sinks into your skin, even though it contains silicone, which is supposed to make it last longer! Not only that but it also seems to keep me from getting lubricated naturally, and made penetration a nightmare, even though I don't usually need a lubricant. Also made my boyfriend really dry! Hated this.
Page
1