Spectro
Spectro Facial Cleanser for Blemish Prone Skin Fragrance Free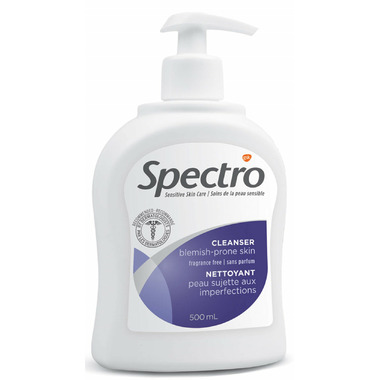 Spectro
Spectro Facial Cleanser for Blemish Prone Skin Fragrance Free
Description
Spectro Facial Cleanser for Blemish Prone Skin Fragrance Free is a gentle, non-irritating cleanser specifically formulated for acne prone or blemish prone skin. Also a good choice for skin that is normal to oily. It deep cleans to remove impurities such as dirt, oil and bacteria while protecting your skin's natural moisture barrier. Use morning and night as part of your skin care routine to help maintain clear, healthy-looking skin. Follow with Spectro® Daily Facial Moisturizer for Blemish-Prone Skin.
Features:

Penetrates pores to remove dirt, oil and bacteria that can cause acne
Purifies & tones
Gentle, non-irritating
For sensitive skin
Free from potentially irritating ingredients such as fragrance, dyes, sodium, sulfates, parabens and lanolin
Soap-free
Softens & smoothes skin
pH balanced to skin
Non-comedogenic
Ingredients: Aqua, butylene glycol, glycerin, hydroxypropyl methylcellulose, polysorbate 20, cetyl alcohol (moisturizer/hydratant), hydrated silica, PEG-12 dimethicone, diazolidinyl urea, carbomer, triethanolamine, sorbitan oleate.

Highlights