Spin Master Games Bubble-Blasting Game with Interactive Sneezing Sheep
Spin Master Games Bubble-Blasting Game with Interactive Sneezing Sheep
is rated out of
5
by
27
.
- We're sorry, this product is no longer available!
- Shop for other products in: Family Games

Bubbles the sneezy Sheep loves to eat! Feed her treats when you play Baa Baa Bubbles and her wool made of real bubbles grows! Apply the solution (included) onto Bubbles, scatter the meadow tiles around her and take turns flipping them over. Feed her the number of times shown on the tile and watch her sudsy wool grow.
But be careful: if Bubbles is allergic to what she eats, she'll sneeze, blasting her bubbles and you'll lose your tile! If she doesn't sneeze and happily eats, keep the tile. The player with the most meadow tiles at the end of the game wins! This anticipation-filled game of bubble-blasting fun is great for kids to play alone or with the family. Have a blast feeding Bubbles the Sheep with Baa Baa Bubbles, the bubble-blasting sheep game!
Features
:
BUBBLE-BLASTING SHEEP GAME: In Baa Baa Bubbles, players take turns feeding meadow tiles to Bubbles the Sheep. As Bubbles is fed, her wool made of real bubbles grows (solution included)! But watch out, you don't want to make this adorable sheep sneeze!
WATCH OUT FOR A SNEEZE: If Bubbles sneezes when you feed her, she'll blast her bubbly wool and you'll lose your tile! If she doesn't sneeze, you get to keep the tile. Earn the most meadow tiles to win!
FUN FOR THE WHOLE FAMILY: With Baa Baa Bubbles, the surprise and delight never ends! Perfect for young kids and parents too, everyone will have a blast feeding Bubbles. Add Baa Baa Bubbles to your next family game night!
Baa Baa Bubbles is a fun family game for kids aged 4 and up, ideal for 2-4 players. Baa Baa Bubbles makes a great gift idea for birthdays and holidays. Bring home the bubble-blasting excitement!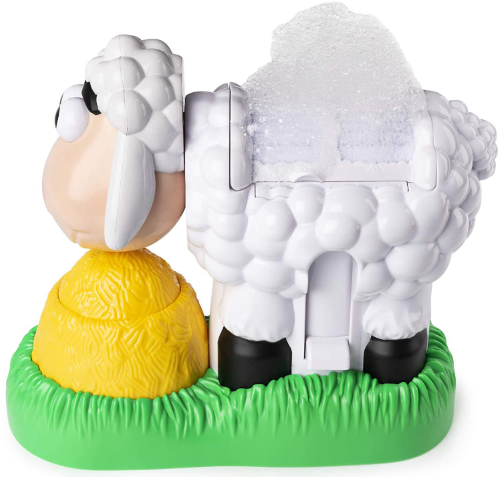 Similar Kids Games & Puzzles
Other Spin Master Games Products
Rated

4

out of

5
by
Jher
from
We were so excited when this game arrived! Setup was easy, and instructions were easy to understand. The only problem we had was getting the sheep's back to bubble up. We kept adding more solution and it just wouldn't work. Finally, we decided to use a paper towel to blot and rub the solution in and then it started to work. Once the bubble action was working we had no more issues with the game. It's a fun and entertaining game, the kids love when the sheep "sneezes" and all the bubbles pop. We received the baa baa bubbles game for free in exchange for our honest review. (This review was collected as part of a promotion.)
Date published: 2019-08-26
Rated

5

out of

5
by
Nunu23
from
As soon as we received the package and opened it up to see what was inside, my kids were just overcome with excitement and couldn't wait to play with it. The instructions it came with were clear and easy to follow. As soon as it was all set and ready to play, the kids understood quickly the concept of the game and just enjoyed seeing the sheep bubble up. Overall, this game was really for the whole family. It did seem to make quite a bubbly mess but that wasn't an issue and it was easy to clean up. I would definitely recommend this to other families for entertainment. (This review was collected as part of a promotion.)
Date published: 2019-08-29
Rated

5

out of

5
by
InTheKnowMommy
from
As a mom I am always concern with the amount of screen time our kids are exposed to . So we love having family game night. Spin masters Baa Baa Bubbles is a great game that the whole family can enjoy. I liked that 2 to 4 players can play . I liked that it was easy for the kids to understand and follow directions. Its not boring and it entertained my kid for a long time. It made with good materials that looks like it can last for a long time. I received this game as a complimentary for my review,however my opinions are my own as always. (This review was collected as part of a promotion.)
Date published: 2019-08-27
Rated

5

out of

5
by
Kottum
from
#FamilyRatedClub I received baa baa bubbles for free in exchange for my review. This game is loads of fun for all ages. I enjoy playing with my family. The laughter as you smash the sheep and watch the bubbles produce his fur is contagious. The kids love waiting to see who is going shot with bubbles. The game does not take much to set up which is a big plus. Make sure to put a towel down because the game does get messy. The kids want to play every night. Baa Baa bubbles keeps kids entertained and away from screens which I appreciate. (This review was collected as part of a promotion.)
Date published: 2019-09-01
Rated

5

out of

5
by
jeanettemom
from
This game is so cute my kids were so excited when I opened the box and wanted to play this game right away and it was super easy to set up and play and they got really excited about the bubbles we all laughed and laughed everytime the sheep shook the bubbles shook also it was easy enuff to play for my 3 year old and older kids can even have fun it's a good quality game and very easy but fun to play we all played for hours and they always chose this game on game night !its super easy to load the bubbles and as you hit the button they grow larger and larger which my kids thought was so funny so I recommend you go out and get this game it's so cute and fun. (This review was collected as part of a promotion.)
Date published: 2019-09-21
Rated

5

out of

5
by
thismomrighthere
from
I received this item free to review from Family Rated and I'm very glad I was able to participate! My kids love anything to do with bubbles so it was no surprise that they loved this Baa Baa Bubbles game! My kids also love sheep and lambs so this was right up their alley. They loved the built up anticipation to see who was going to be the one to make the bubbles explode off its back! I will definitely be recommending this to other parents and we will playing it many more times! Fun game and easy for kids to understand and play! (This review was collected as part of a promotion.)
Date published: 2019-09-04
Rated

5

out of

5
by
Naturallylash
from
We love having a variety of games for game night with the family and since my children love anything with bubbles this game waa perfect. I found that everyone was very engaged in the fun from my husband all the way to my toddler! The set up for the game was simple and made it so even the kids could get the game setup and ready to play. It was great that it did not require any batteries so the fun is always ready and we can use any bubbles we have at home. Overall I feel this game is perfect for family game nights! (This review was collected as part of a promotion.)
Date published: 2019-08-30
Rated

4

out of

5
by
Mamadews
from
When I first opened this game and tried to use it, the bubbles didn't come out of all the spaces. So I removed the part that pushes air through, blew through it, and put it back together. After that it worked great. My 3-year-old has lots of fun with it. She loves bubbles and usually ends up just making us push on it to make more bubbles. I love that it doesn't take very much of the bubble solution, and the kids have fun trying to see who can make the sheep eat the most before it "burps" So far, my 3-year-old is winning, and she loves that the bubbles stack higher and higher with each push. I would definitely recommend this game for anyone with a bubble lover or small child! (This review was collected as part of a promotion.)
Date published: 2019-10-02