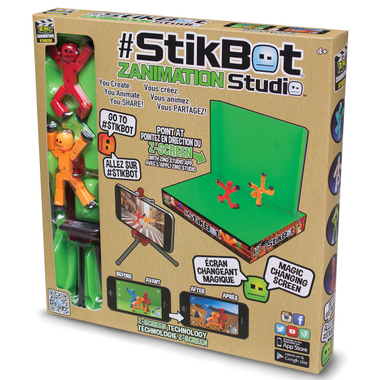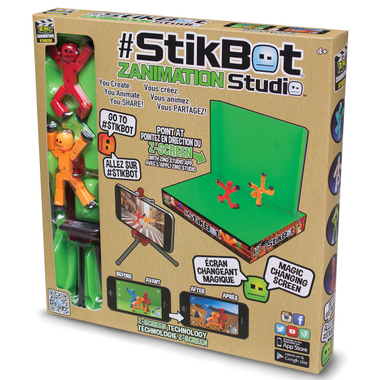 Now you can create real movie-magic thanks to the Stikbot Studio Pro that includes a green-screen. Place your Stikbot in front of the green-screen, create an animation, and then choose a background from the free smartphone app to transport your character anywhere
.

Stikbots are poseable sticky bots who will adhere to almost any flat surface thanks to their suction-cup hands and feet (yep, they were born this way!) Their unique design allows stikbots to be posed in countless ways – their limbs, torso, and even neck can be positioned at multiple different angles. Stikbots are ridiculously fun and addicting to play!

With the free mobile app Stikbot Studios, available on iOS and Android stores, you can shoot your stop motion animation videos starring Stikbot! The app snaps individual pictures and stitch them together into a film. It also comes with sound effects and music. Of course, you can add your own voice! Anyone can pose, film and edit their #stikbot in stop animation quickly and easily. Everywhere becomes a stage – the kitchen, the living room, the school bus!

Suitable for ages 4 years and up.