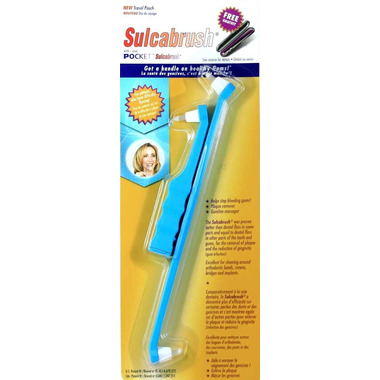 Colours Vary
SulcaBrush with Pocket Sulcabrush
is rated out of
5
by
21
.
---
Description
Flossing everyday is important! If you have difficulty flossing – simplify – by using a Sulcabrush.

Clinically proven to HELP STOP BLEEDING GUMS, the Sulcabrush was the creation of a Dentist who looked for an easy solution for his patients who did not floss.

Searching history, Dr. Florence realized the Natural Toothbrush, known as a "chew-stick" was used for centuries, and still is in countries such as India (neem) and Africa (Miswaki).

Following the principles found in nature, Dr. Florence designed and developed an 'angled' (firm bristled) brush that resembled the Natural 'twig' used for centuries. He called it Sulcabrush (The space between the gums and teeth is a 'Sulcus').

The effectiveness of the Sulcabrush in removing plaque, reducing gingivitis and improving patient overall health has been proven in research studies and in practice for many years.

Today, thousands of people LOVE using the Sulcabrush!

It is easy, convenient and can even be used outside the bathroom – Reading a book, watching TV or travelling.
Please note: The colour you receive may vary from the image shown.

Rated

5

out of

5
by
Hannah
from
I've been searching for these Sulca brushes for years after my dentist gave me one a decade ago. Hard to find in the shops, and I'm so happy to find them here! They work exceedingly well - if you tend to scrub your teeth too hard in an effort to remove EVERY trace of plaque around the gum line like I do, then this brush is your answer. Gets all the nooks and crannies easily, without having to scrub or press too hard. My teeth never felt so clean. I bought a few for my mum and sister too!
Date published: 2018-01-02
Rated

5

out of

5
by
Candice
from
Sulcabrush review: I have to say that now that I've used the Sulcabrush, I wouldn't be without it. It was not that I needed it for any specific reason, I just wanted to see if it would take the health of my teeth and gums to the next level. I can tell by the feel that it's a fantastic tool. I choose to use a manual toothbrush and dental floss. The Sulcabrush is a wonderful adjunct to my routine that I use once a day. It always feels like I just got my teeth cleaned by the hygienist. My teeth seem whiter too. A great invention.
Date published: 2012-08-22
Rated

5

out of

5
by
Jose
from
Works like a champ! My dentist said I was her last and best patient of the day by way of oral hygiene, and the cleaning was a breeze. I had none of her usual complaints about missing this or that spot, and I floss and brush anyway. So this funny-looking brush must have done something. I also ordered the free brushholder, and it came within a week. Switching the brush tips around is as easy as giving the handy square bases a twist. Each of my kids has a new SulcaBrush for the summer!
Date published: 2012-07-04
Rated

5

out of

5
by
Andrea
from
I love this product. I got it as a sample from my dentist and have been looking to buy another one online for some time now. Good price. I use it in addition to flossing and to massage my gumline
Date published: 2016-09-22
Rated

5

out of

5
by
Lori
from
Great value
I bought this set through well as they had the best price plus the bonus travel sulcabrush which is great for my purse. The bristles are firm enough to really get the sticky plaque off the sulcus but not so stiff it will damage the dentin. Highly recommend.
Date published: 2021-05-18
Rated

5

out of

5
by
Mary
from
I have been looking for this product for quite a number of years since they took it off the pharmacy shelves. I was never satisfied with any of the other similar products, and was happy to locate it online recently. I love the angled ends which help clean the inside and outside gumlines. And these brushes are the right height in cleaning firmly between the teeth.I made sure that I had a good stock of them.
Date published: 2016-04-03
Rated

5

out of

5
by
Katie
from
I love this brush! I just bought the replacement heads from Well.ca. I picked this up because I scrub to hard trying to get my teeth squeeky clean, which has resulted in some very slight gum erosion. I found this brush and now I don't brush too hard. This gently cleans around my gum line and my teeth feel l like I got a dental cleaning every day. I love it!
Date published: 2018-10-29
Rated

4

out of

5
by
Andrea
from
This brush is great. I use it after flossing, (I don't use everyday) as I believe flossing is still necessary/beneficial to do along with this, & after using it my gums & teeth do feel cleaner & better & like they got some extra tlc. I can't find this at any store or anywhere else.
Date published: 2016-04-06