Sunbeam Warm Mist Humidifier White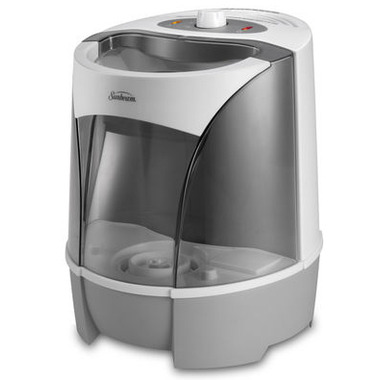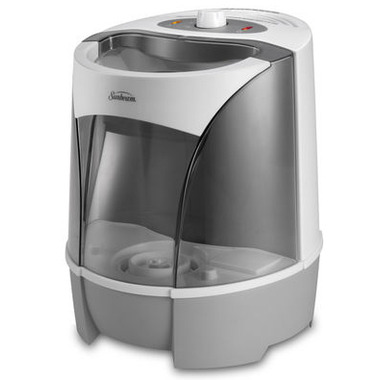 Sunbeam Warm Mist Humidifier White
Be soothed in warm comfort and relief with the Sunbeam® Warm Mist Humidifier. Disperses a warm mist and medicinal vapours to help relieve cough and cold symptoms.
Comforting warm mist relief adds moisture in the air and helps alleviate dry winter cough and cold symptoms. This filter-free humidifier is designed for quiet operation to disperse a warm, visible mist and includes a medicine tray for aromatherapy or medicinal vapors that can help soothe dryness of the throat, sinuses and irritating cough and cold symptoms. Humidifier is treated with antimicrobial properties to help protect against bacterial growth and eliminate odors. Recommended for small rooms.

Features:
0.9-gallon tank capacity for small rooms
Up to 24 hour run time per tank filling with auto shut-off
Includes integrated medicine tray ideal for use with vaporizing inhalants
2-speed settings
Filter-free
Antimicrobial-treated*6
Removable tank for easy filling and cleaning
1 year limited warranty
Gillian:
about a year ago
I've had mine for 2 years. It runs all day and all night for 6 months of the year over winter. Thus far it's proven to be 100% reliabl, with no issues and is easy to clean and refill. It puts out a vigorous amount of warm humidity, and we only have to refill it every 10 hours on the high setting. I would not recommend adding essential oils to the small oil reservoir. The oil dissapests almost instantly and quickly stains the plastic. But this is a sturdy, good quality product which I recommend.
Kelly-Anne:
more than a year ago
One of the few home items I have loved. This is perfect for me. I use it almost every single day. It holds enough water to run all day on low and if it does run out, a light indicator comes on and the unit shuts down. The only thing that would have made it 5/5 is if the reservoir for the essential oil was a bit bigger. I enjoy the smell emitted for a while but then it dissipates. highly recommended.
Page
1