Surya Henna Cream Semi-Permanent
Surya Henna Cream
is rated out of
5
by
12
.

Colour Not Shown
Colour Not Shown
Colour Not Shown
Colour Not Shown
Colour Not Shown
Colour Not Shown
Colour Not Shown
Colour Not Shown
Colour Not Shown
Colour Not Shown
Surya Henna Cream is a semi-permanent hair coloring containing hair dyes plus herbs and fruits from Brazil and India, which offer simultaneous coloration and deep conditioning treatment for the hair. Intense treatment for hair and scalp. Colors gray on first application.
Does Not Contain:
Parabens, Peroxide, Ammonia, Heavy Metals, PPD, Resorcinol, artificial colors or synthetic fragrance. Therefore doesn't harm your hair, your health or the environment.
Shade Range: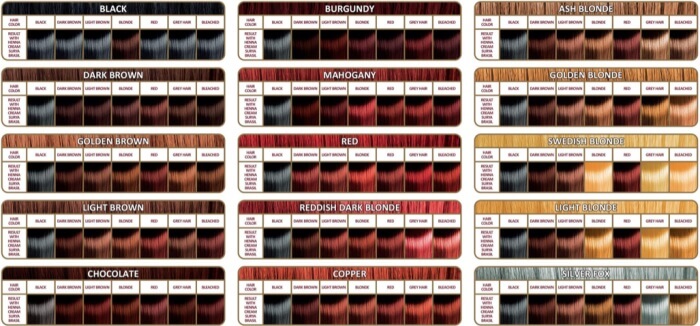 Ingredients:
Deionized Water (Aqua), Dipropylene Glycol Methyl Ether, Genipa Americana (Genipap) extract, Cetrearyl Alcohol, Cetrimonium Chloride, Orbignya Oleifera (Babaçú) Seed Oil, Benzyl Alcohol (and) Dehidroacetic Acid, Glycerin, Hydroxythylcellulose, Essential Oils (Rose, Ylang Ylang, Jasmin and Sandalo), Achillea Millefolium (Aquiléia) Extract, Aloe Barbadensis (Aloe Vera) Leaf Extract, Arnica Montana Extract, Bertholletia Excelsa (Brazil Nut) Extract, Chamomila Recutita (Camomila) Extract, Corylus Rostrata (Avelã) Seed Extract, Daucus Carota Sativa (Carrot) Root Extract, Euterpe Oleracea (Açaí) Fruit Extract, Lawsonia Inermis (Henna) Leaf Extract, Malphigia Punicifolia (Acerola) Fruit Extract, Malva Sylvestris (Malva) Extract, Paullinia Cupana (Guarana) Fruit Extract, Phyllanthus Emblica (Amla) Fruit Extract and Ziziphus Joaseiro (Juá) Extract, Aminomethyl Propanol, Sodium Citrate. Pigmentos (may contain, deppending on the product shade): HC Yellow 2, HC Yellow 4, HC Yellow 5, HC Red 1, HC Red 3, HC Blue 2, Disperse Violet 1, Disperse Black 9, 3 - Nitro - p – Hydrovyethylaminophenol, 6 - Chloro - 4 - Nitro - 2 – Aminophenol.
Other Surya Brasil Products
Rated

5

out of

5
by
NurseJennyPennyRN
from
LOVED this product
This product was much better than expected. I have a bit of grey surrounding my temples and have over 95% coverage even after one wash. The colour was beautiful, I mostly did my roots, avoided my highlights and pulled through a bit to blend with my salon colour. This is the perfect solution during the pandemic for me. My hair dresser warned me that some henna is super bad for your hair if it has metals in it- this product is metal free and made my hair luscious! The only problem is how hard it is to come by during this time, lol. Wish they kept more in stock. :)
Date published: 2020-04-24
Rated

5

out of

5
by
Tana22
from
Covers the Grey!
I have been using surya henna for about 8 years. I have black hair with grey at the temples. My technique to cover the grey: Apply a generous amount dabbing it on with a small paintbrush and working it into the grey areas. I use the dark brown and wrap plastic wrap around to cover and keep it from drying out. I cover up with a knitted hat. I don't color the rest of my hair. I leave it on for 5 hours. Yes, 5. Then rinse it out only with water.
Date published: 2020-11-11
Rated

5

out of

5
by
lpm
from
Does a great job!!
I began using this product in May during our first lockdown when I couldn't get to the hairdresser to colour my hair. It worked so well that I have decided to forego getting my hair coloured with my hairdresser. I let her cut it! At first, I didn't leave it in for long and it still covered my grey roots. I've used it three times since then and have left it in for an hour and it does a great job. It does wash out, of course, but I use shampoo and conditioner for coloured hair and I only wash my hair once a week. I don't have oily hair and it retains its shape quite well. Sometimes I do wash it twice a week. The colour does last a while. I am also happy that I can find this product in Canada. When I first ordered it, I got it from ebay and it had to be shipped from the U.S. Thank you, Well.ca for having this product on hand for your Canadian consumer.
Date published: 2020-10-11
Rated

5

out of

5
by
Neepa
from
Exceeded product
I have been using it throughout the pandemic and I agree with everyone who loves this product, it's safe, non- smelly or itchy, which was always the case with other hair dyes. This time I left my grey to grow out a bit so I could try the 'Silver' colour, unfortunately I have not found any reviews about the results of the Silver colour, if any one has tried it, please let me know your views and it would be really helpful if some picture is available!
Date published: 2021-01-24
Rated

5

out of

5
by
whatastreel
from
Gentle and rich
I've bought this in this past in Chocolate and light brown and loved it. Recently bought silver fox and color did not take to hair at all. Lasts about 10 washes before fading enough to need reapplying, leaves hair soft and silky without chemical odors or heavy fragrance.
Date published: 2020-02-24
Rated

5

out of

5
by
Miranda
from
Best hair dye ever
This hair dye is the best ever! It has no harmful chemicals and it makes my hair shiny and healthy! I love the highlights when the sun shines on my hair, the reddish tone is very noticeable. I'll keep buying Brazil Surat products in the future !!!
Date published: 2020-09-23
Rated

5

out of

5
by
Miranda
from
Excellent Product
I buy this hair dye because it doesn't have all the chemicals that are harmful to your hair! I will continue to purchase this product from Well.ca! Always a pleasure buying from Well,ca. Shipping is very fast and excellent customer service..
Date published: 2020-08-11
Rated

5

out of

5
by
Honestopinion
from
Awesome product!
I am very allergic to hair dye products. But Surya henna is the only dye that works for me. I am so glad this product exist! However, pricing is a little expensive compared to other hair dyes.
Date published: 2020-01-20