SwimWays Baby Spring Float Activity Center with Canopy Octopus
SwimWays Baby Spring Float Activity Center with Canopy Octopus
Introduce your baby to the water (and an engaging play pal!) with the SwimWays Baby Spring Float Activity Center.

Features:
Interactive play station with activities for every developmental stage.
The octopus' arms hold toys baby can touch and activate: Squeaker, rattle, stacking rings, teether and soft touch star.
Fabric cover and soft mesh seat for durability and comfort.
Large circumference and an inner spring around the outside edge for added stability.
Dual inflation chambers and child safety valves enhance security.
Mesh play space for toys and splashing.
Adjustable and removable canopy with 50+ UPF sun protection.
Folds flat into three compact rings for portability and storage - it's a great baby float for travel! Carry bag included.
This baby floaty is a wonderful baby shower gift idea; giving parents the opportunity to bond with their child in the water as he or she grows.
Ages: 9-24 months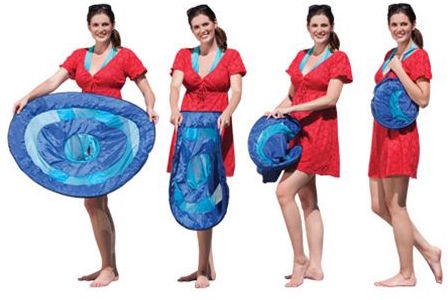 Please Note: Image and video above are shown in a different Baby Spring Float.
Valerie:
more than a year ago
Best product! I bought the higher end version while it was on sale because the cheaper version had sold out. People at the pool were all asking us about this awesome product. We ended up all playing with the toys which made it fun because we hadnt brought any pool toys. Baby loved it.
Page
1