Szio+ Urinary Tract Health Supplement 36mg Proanthocyanidin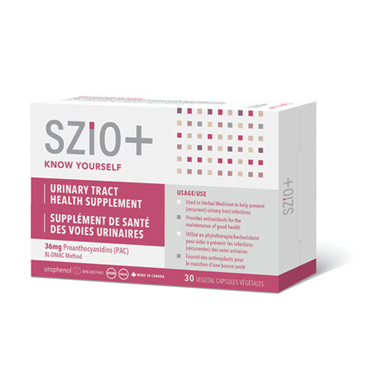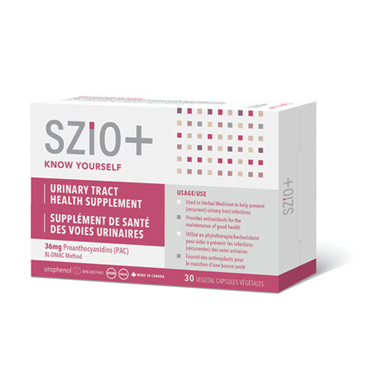 Szio+ Urinary Tract Health Supplement 36mg Proanthocyanidin
Szio+ Urinary Tract Health Supplement 36mg Proanthocyanidin (PAC) is a natural alternative to manage your recurrent Urinary Tract Infections (UTIs) with only 1 daily capsule.
Cranberries have long been considered a natural treatment for UTI symptoms and recurrences. At Szio+ they've identified the most active molecule of the cranberry which is the Proanthocyanidins (PACs). Daily treatment at the right concentration (36mg PAC) promotes natural flushing of the urinary tract by binding to E. Coli and prohibiting them from adhering to the urinary tract wall. Instead, the bacteria are naturally flushed away with your urine before they can do any harm. Taking just one Szio+ capsule a day can lead to results within hours.
Benefits:
A clinically effective dose of 36mg PAC (Proanthocyanidin BL-DMAC method) in one daily capsule – the proven amount to prevent UTIs which works within hours.
Proanthocyanidins have been identified as active component of cranberries that creates a shield in your urinary tract to constantly protect it from UTI-causing bacteria
Additionally, proanthocyandins are known to provides high levels of antioxidants for the maintenance of good health
Szio+ 36mg PAC supplements are extracted from whole fresh cranberries which ensure we get different components than from pure cranberry juice. With whole fruit, you get the extractable components from the insoluble fibers part of the fruit (seeds, skins, pulp, flesh, etc) providing improved bioavailability and absorption.
Note that not all cranberry supplements are the same unless it states "36mg proanthocyanidins (BL-DMAC method)" within the medicinal ingredients.



Recommended dose: 1 Vegetable Capsule. Szio+ Urinary Tract Health Supplements (36mg proanthocyanidins) work on a 24-hour protection cycle and should be taken at the same time every day.

Medicinal Ingredients (Amount Per Capsule): 240 mg cranberry extract fruit powder (Vaccinium macrocarpon) providing 36 mg of proanthocyanidins (BL-DMAC)

Non Medicinal Ingredients: Pregelatinided starch,hypromellose, silicon dioxyde, magnesium sterate