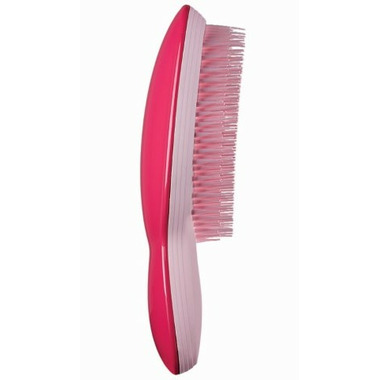 Description
Created by celebrity colourist Shaun P with 30 years experience - The Tangle Teezer is a multi award winning detangling hair brush. The Tangle Teezer banishes tangles and knots with minimum fuss, breakage or damage with uniquely designed teeth that glide through your hair leaving it soft and shiny without tugging and pulling.
Offering the perfect finishing touch, The Ultimate Brush is created for dry-styling and dressing your hair. The unique teeth are longer with softer tips which lightly detangle and smooth cuticles for a high shine. It's designed to achieve perfect up-dos, back-brush in volume and texture and to maintain and blend in hair extensions, clip-ins and weaves.
Easy to hold, simple to use and all you need for that final flourish, The Ultimate hairbrush finishes your look in style. Do not use with heat.

Play the Tangle Teezer Ultimate Finishing Brush video on Youtube