Thai Kitchen
Thai Kitchen Original Pad Thai Stir Fry Noodles with Sauce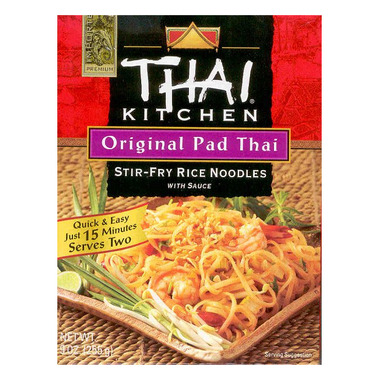 Thai Kitchen
Thai Kitchen Original Pad Thai Stir Fry Noodles with Sauce
Description
Usually the first dish that comes to peoples' mind when you mention Thai food, Pad Thai is the classic noodle dish with an unforgettable sweet and tangy flavor. This box contains 100% rice noodles and an authentic signature sauce for a easy, tasty stir-fry noodle meal just like you would find at your favorite Thai restaurant.
Features:
Gluten Free

Mild spice

Ready in 15 minutes
Ingredients: Noodles: Rice, water, modified tapioca starch. Sauce packet: sugar, water, rice vinegar (glucose syrup, rice, water, sugar, starter culture),
fish sauce (anchovy extract [fish], salt, sugar),
preserved radish (radish, sugar, salt, sodium benzonate),
tamarind,
tomato paste, Chinese chives, salt, soybean oil, garlic, shallot, modified tapioca starch, spices (including red pepper), citric acid, xanthan gum, spice extractives.

Highlights

Shipping & Returns