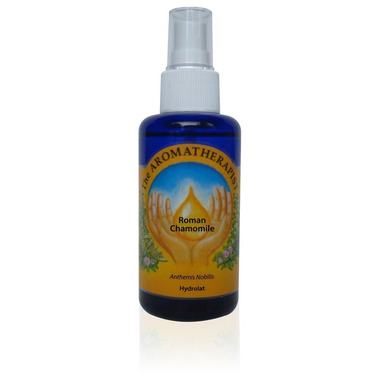 Description
The Aromatherapist Roman Chamomile Hydrosol Organic is gentle, calming and soothing.
Common Uses:
Often used for soothing inflamed skin conditions, allergic reactions, boils, burns, cuts, eczema, dermatitis, insect bites and sunburns. Is also used to treat diaper rash and heat rash. Very calming, helps to relieve stress and anxiety, it is gentle and safe for use with children.
Cosmetic/Skin Uses:
Used to treat red, dry, itchy skin and rosacea.
Blends Well With: Lavender, Helichrysum, Geranium Rose
Inside Info:
Create a calming bedtime spritzer for your children by adding 10 drops Lavender Highland to your 100 ml bottle of Roman Chamomile Hydrosol.
Profile:
Chamomila Matricaria
France
Certified Organic
Steam Distilled from Blossoms
Hydrosols or 'Floral Waters' are the gentle, water-soluble elements of the plant. They are a great base for many DIY products and can be used directly on the skin.

Caution: Do not apply essential oils to open or broken skin. Some essential oils are not safe for pregnant women, small children or individuals with compromised health. Please seek the advice of your healthcare professional if you are unsure.
Highlights