The Chemistry Brand Hyaluronic Concentrate
A Big Tub of Hyaluronic Acid
240 mL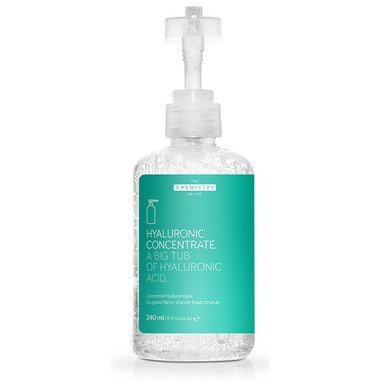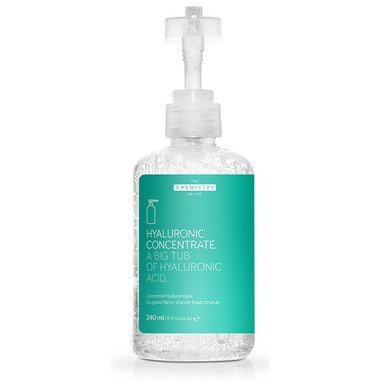 The Chemistry Brand Hyaluronic Concentrate
A Big Tub of Hyaluronic Acid
240 mL
Contains an extraordinarily high concentration of nature-like hyaluronic acid, suspended in a base of skin-enhancing red algae and tamarind. Continued use helps improve the skin's ability to retain hydration, while enhancing visible texture and delivery of actives.
Features:
Promotes skin to retain its own moisture, minimizing the need for any additional surface hydrating products
Skin develops elasticity and an overall smoother, silkier appearance and feel
Its antioxidant qualities also provide anti-aging effects throughout the body and skin
The red marine algae in this formula has been proven to increase cell turnover, whilst increasing skin elasticity and hydration
Tamarind provides below-surface hydration, extreme long-term hydration and textural improvement to skin
Directions:
Apply evenly to hands and body twice or more daily for well hydrated, happy skin.
Ingredients:
Aqua (Water), Sodium Hyaluronate Crosspolymer, Tamarindus Indica Seed Gum, Tremella Fuciformis Sporocarp Extract, Ahnfeltia Concinna Extract, Glycerin, Pentylene Glycol, Betaine, Carbomer, Triethanolamine, Potassium Sorbate, Ethylhexylglycerin, Hexylene Glycol, Caprylyl Glycol, Phenoxyethanol, Chlorphenesin.