The Natural Family Co. Propolis & Myrrh Toothpaste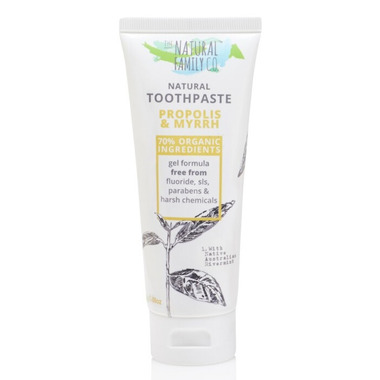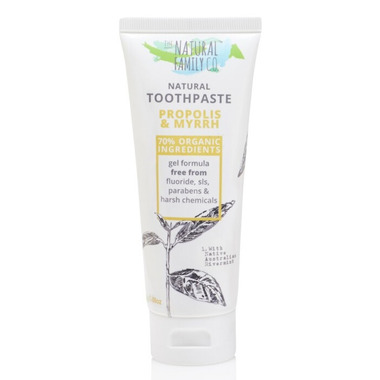 The Natural Family Co. Propolis & Myrrh Toothpaste
Each NFco Toothpaste contains 70% Organic ingredients and is designed for the whole family. The Australian Made gel formula with Native Australian Rivermint is rich in Xylitol and free from fluoride, SLS, parabens & harsh chemicals.
Australian River Mint (Mentha Australis) is native to the wild, pristine rain forests and waterways of eastern Australia. It is known for it's fresh aromatic flavor and is used by indigenous Australians for medicinal purposes.
Propolis (from bees) and Myrrh (plant extract) are both resins that have natural anti-bacterial properties. Plaque is formed in part by bacterial growth throughout the day - having these resins promotes a clean feeling that lasts longer because the bacteria are held at bay. They are also beneficial in cases of gingivitis or other gum infections due to their antibacterial properties.
Features:
Fresh tasting gel Formulation
Fluoride free
Rich in Xylitol to help prevent cavitites
SLS free (uses SCS -that is not absorbed through the skin)
Hydrated Silica as a mild abrasive
Usage:
Brush twice a day using a minimum pea sized amount.
Ingredients:
Purified Water, Xylitol (Organic), Hydrated Silica, Sorbitol, Potassium Nitrate, Glycerin (Vegetable), Sodium Coco Sulphate, Cellulose Gum, Mentha Arvensis Leaf Oil (Organic Peppermint Oil), Sodium Chloride, Potassium Sorbate, Aloe Barbadensis Leaf (Organic), Mentha Australis (Native Australian River Mint), Propolis & Myrrh (TBC)