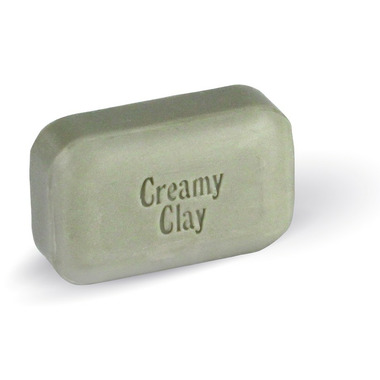 110 g
The Soap Works Creamy Clay Cleansing Soap
is rated out of
5
by
13
.
---
Description
The Soap Works Creamy Clay Cleansing Soap uses fine Bentonite clay which absorbs excess oil on the skin without drying. It cleans and tones all skin types and has an all vegetable content. This is a great all-purpose bar. It is designed for normal to oily skin. The bentonite clay is supposed to absorb surface skin oil without excessively drying the skin. The Soap Works believes that especially strong, astringent soaps used on naturally oily skin clear away too much surface oil causing the skin to compensate by over producing more oil, thereby exacerbating the problem.
Features:
Vegan
Gluten Free
Not tested on animals
DOES NOT contain sodium laurel, lauryl or laureth sulphate
Phosphate free
Comes without packaging
Ingredients:
Sodium Palmate, Sodium Palm Kernelate, Palm Kernel Acid, Glycerin, Sodium Chloride, Bentonite Clay, Brown Iron Oxide Colour, Parfum (Clove*, Cedarwood*, Patchouli*, Orange*)
*Essential oils
Highlights

Rated

5

out of

5
by
Lou57
from
Very Impressed!
I rarely use soap on my face but after reading reviews on this site, I decided to try this. I am truly impressed! I used it on my face, my skin tends to be sensitive and a lot of cleansers leave it feeling dry. This soap left my skin feeling soft, I felt no sensation of irritation and it felt clean. Has a subtle and pleasant scent and no waste on packaging! LOVED it and would highly recommend it.
Date published: 2020-11-22
Rated

5

out of

5
by
ENormaseri
from
Eco-Friendly Packging
I love this brand of soap, and it's simplistic zero waste packaging, and I usually buy it in person form my supermarket. Since Covid, I decided to order from Well.ca and was thrilled to see that they use brown paper to package this product instead of plastic, keeping it eco- friendly, the way I like it! Super thrilled as always with the care and consideration that goes into packaging with Well.ca!
Date published: 2020-09-01
Rated

5

out of

5
by
HappyBuyer
from
It's exactly what it says it is.
I've become a big fan of The Soap Works soaps. I like the ingredients, and buy only the vegan soaps. I try new ones each time I order, added to ones that are already my favourites. I am re-ordering the Creamy Clay. I like the way it lathers. It is definitely creamy and luxurious. It's great for my skin. I am very happy with this soap.
Date published: 2021-11-08
Rated

3

out of

5
by
JMZP
from
Scent is not for me
I bought the clay and the tea tree oil soap. Both have lasted a long time. They definitely do leave that bar of soap squeaky feeling when you're done using it but I didn't notice any dry skin or anything like that. The clay soap has an unpleasant perfume type of scent (in my opinion) that I can still smell on my skin even after I shower and for that reason I will not be purchasing this particular bar again. However, I will try another one from this brand as my husband and I both liked the tea tree oil one.
Date published: 2021-08-10
Rated

5

out of

5
by
HappyBuyer
from
I love it!
I have become a huge fan of The Soap Works soaps and enjoy trying out the vegan ones. Creamy clay is definitely creamy. It's great! It cleans without drying, and is gentle enough to use on my face. I like that the soap comes without packaging, and the price is excellent. Keep up the good work!
Date published: 2021-11-29
Rated

5

out of

5
by
Toula
from
my best soap.
Clay Cleansing Soap is the best so far. Not only I use it for shower, I actually use it to wash my long hair. I have not used shampoo for over 10 years. I have found that The Soap Works Clay Cleansing Soap leaves my body and hair not only clean but refreshing. I love it!
Date published: 2021-08-20
Rated

5

out of

5
by
Sara F
from
Using for years
I've been using this soap for a few years and am so happy I can order it from Well.ca! Great for my mature yet still acne prone skin/oily skin. Removes the toughest mascara better than any traditional cleanser I've used.
Date published: 2020-05-01
Rated

5

out of

5
by
Alchemy Valkyrie
from
Sensitive Skin Approved!
This is by far my favourite soap ! i have been using it for years 1.) Clean Ingredients: ( I have been using it for years and have very sensitive skin, I have never reacted negatively to this soap and feel confident about using it without worrying about rashes or irritation) 2.) Smell and Lather : I love the smell of this soap its very gentle and just smells "clean" lathers very well (I like using it in an exfoliating cactus fiber bag) 3.) Effects on skin: This is one of the very few soaps I have found that does not leave a residue after rinsing , my skin has less acne and is noticeable softer when using it daily, it seems to do a great job at deep cleaning pours and removing dirt and built up toxins 4.) Eco responsible : the no packaging is a plus for sure! 5.) Affordability and Longevity: one bar usually lasts me roughly 6 months (its hard to beat a years worth of soap for $6!)
Date published: 2021-02-17