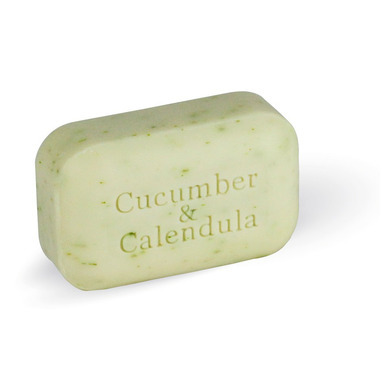 110 g
The Soap Works Cucumber and Calendula Soap
is rated out of
5
by
103
.
---
Description
The Soap Works Cucumber & Calendula Soap is an all-vegetable soap containing cucumber, a mild cleansing agent and skin toner, and calendula. Calendula is high in flavonoids, which accounts for much of its anti-inflammatory activity when treating minor skin abrasions.
Every summer, when local, fresh cucumbers are available, The Soap Works buy bushels. They peel them and juice them. There is cucumber all over the place as they make gallons of cucumber juice. They add this juice to the soap bar along with the herb calendula. Both ingredients are designed to sooth skin.
Features:
Vegan
Gluten Free
Not tested on animals
DOES NOT contain sodium laurel, lauryl or laureth sulphate
Phosphate free
Comes without packaging
Ingredients:
Sodium Palmate, Sodium Palm Kernelate, Palm Kernel Acid, Glycerin, Sodium Chloride, Cucumis Sativus (Cucumber) Juice, Calendula officinalis (Calendula), Parfum (Lemongrass*, Orange*, Grapefruit*, Galbanum *)
*Essential oils
Highlights

Rated

5

out of

5
by
Angela
from
ABSOLUTELY fantastic!! Couldn't say enough good things about it. Smells nice, goes on gentle. My hands actually felt soft after using this soap and this is just a regular soap mind you not even one of those moisturizing soap like Dove (which takes forever to rinse) and this soap rinses clean and away leaving no residue behind. Can't believe going chemical-free made such a big difference to my hands. Just think of all those years that I subjected my hands and body to all those chemicals and toxins, I should've switched long time ago.
Date published: 2014-11-18
Rated

4

out of

5
by
Hoda
from
This soap was one of my first attempts at using less toxic products and I am very satisfied. I don't need to scrub that much anymore to feel clean since using this soap, as it actually exfoliates my skin which I love. I didn't give it a 5 star since I'm not a fan of the scent it has which thankfully wears off quickly, but that's just me, many seem to enjoy the scent. Also, if you want to use this soap on your face, make sure to use a moisturizer after, as it is not a product for the face and makes it dry. Soaps are usually not meant for the face due to their pH, except if it's specified.
Date published: 2015-10-16
Rated

5

out of

5
by
Ellen
from
My favorite soap from Soap Company. Lathers up nicely with a soft, fresh scent, and rinses clean with no residue. It helps calm down the eczema patches I have on my elbows and hands, and leaves the rest of my skin soft. It's a really terrific soap.
Date published: 2018-11-12
Rated

5

out of

5
by
Nali23
from
clean and fresh
This is a lovely refreshing soap, especially for a morning shower. It's gentle, smells like fresh woods, and keeps my skin clean and soft. I also used it on my face at night to remove make up and just take off the day! Works nicely on facial skin.
Date published: 2020-09-07
Rated

5

out of

5
by
Jojo4846
from
Lasts a long time
I've been using this soap for several years because I really like how it doesn't dry or irritate the skin. Recently, I tried a different product because it was cheaper per bar, but I found out that the bar lasts only half as long, so it isn't cheaper at all.
Date published: 2020-09-05
Rated

5

out of

5
by
Caroline
from
This is my favourite of all the Soap Works soaps, and I've tried several varieties. It has a rich and creamy lather and a nice, light scent. Very moisturizing as well.
Date published: 2017-09-10
Rated

5

out of

5
by
Erin
from
Simple, natural, good price and mild enough for the whole family. The scent is very mild too. This is one of my favourite soaps and a regular in our house.
Date published: 2011-10-04
Rated

5

out of

5
by
Cindy
from
Nice to have a natural soap with a very fresh and light cucumber, floral scent that is not over-whelming, and that quickly forms a smooth lather for face and body. I am now sending it as a gift to special friends.
Date published: 2012-06-15