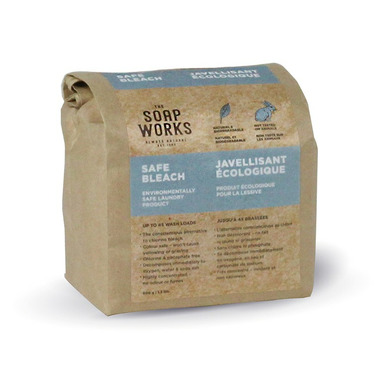 600 g
The Soap Works Safe Bleach
is rated out of
5
by
10
.
---
Description
The Soap Works Safe Bleach is environmentally safe: it is chlorine and phosphate free, odour free, and highly concentrated. It is an excellent whitener that is colour and fabric safe and won't yellow whites.
Check out some the many uses for Safe Bleach:
Add Power to Your Wash
Deck Wash
Grout Cleaner
Whiter table cloths
Laundry Stains
Bathtub Ring
Pet Stains
Cloudy Glassware
Cookie Sheets, Pots and Pans with Baked on Food Stains
Ingredients: Sodium carbonate (washing soda) and hydrogen peroxide
Highlights

Rated

5

out of

5
by
Fiona
from
This is an essential product in my laundry repertoire. I use it on a regular basis for whitening, tough stain removal, and laundry "stripping". A generous sprinkling (usually combined with borax) and an overnight soak can cut through the toughest stains on whites or colours. If the stain is still there after a wash, another soak will guarantee it's gone. This is a great addition for anyone who wants perfume-free laundry that just smells clean. Better than any other "oxygen bleach" type product I have tried.
Date published: 2021-03-05
Rated

5

out of

5
by
Natural_Mama_Canada
from
Great product!
I am so happy I bought this safe bleach! My white towels came out so clean- both looking and smelling, without having the chemical bleach smell burn my nostrils when folding them. I somehow thought I was ordering a 2kg bag, haha, so was a bit surprised as this is only a small bag, but honestly I still find it worth the money and definitely recommend it as an alternative to bleach for laundering. (I haven't tried it for anything else yet so can't say how it works for bathroom cleaning or other uses).
Date published: 2021-08-12
Rated

5

out of

5
by
Sarah H
from
Great cleaning!
I use 2 tablespoons of Simply Clean soap flakes per wash and add 2 teaspoons of Soap Works safe bleach for light coloured loads. It's the on!y thing I can use that a) doesn't bring me out in a rash and b) actually gets things clean
Date published: 2020-08-11
Rated

5

out of

5
by
Fern
from
This really does the trick
I can't speak for whitening, because that's not why I bought/used this. I soaked bath robes and towels in a tub with some of this stuff (in water) for a couple hours and then washed them in the machine. They came out fluffy and SO clean, all mildew or trace odours were removed. I really like that it seems to remove the build-up of oils, soap, and chemicals contained in the fabric softeners, etc. etc. Highly recomend.
Date published: 2022-06-18
Rated

5

out of

5
by
Anna
from
Cleaned lamp shade
I had an off white lampshade that had stains on it. I made 4 cups of safe bleach solution and kept pouring it on over a bucket. It needed no scrubbing and very little rinsing. It was wonderful to watch it come clean.
Date published: 2020-10-03
Rated

5

out of

5
by
linda
from
safe bleach
my daughter uses this and so she gave me a bag and i was so happy with the results from a clean shiny stainless steel sink to a load of whites.. ..... it does a great job you should try it
Date published: 2022-02-15
Rated

5

out of

5
by
Margaret C.
from
Works very well for stains
Since I have not been able to purchase liquid hydrogen peroxide I tried this and was very pleased. Laundry additive, grout cleaner, presoak for stains. More convenient than the liquid.
Date published: 2021-06-13
Rated

5

out of

5
by
Katrina
from
Love this product!
I love this product! It works great on both colours and whites. Soaking in 1 scoop of this in hot water and a bit of sals suds directly on the stain works every time :)
Date published: 2020-05-24