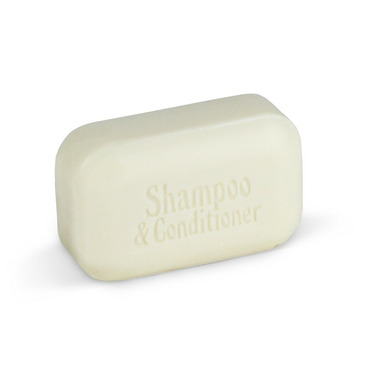 110 g
The Soap Works Shampoo and Conditioner Soap
is rated out of
5
by
32
.
---
Description
The Soap Works Shampoo & Conditioner Soap is specially formulated with aloe vera as a conditioner. It leaves hair "squeaky" clean. This contains no detergents. It's very economical and convenient for sports, camping, workout.
Features:
Vegan
Gluten Free
Not tested on animals
DOES NOT contain sodium laurel, lauryl or laureth sulphate
Phosphate free
Comes without packaging
Ingredients
:
Sodium Palmate, Sodium Palm Kernelate, Palm Kernel Acid, Glycerin, Sodium Chloride, Aloe Barbadadensis Leaf, Parfum (Cedarleaf*, Eucalyptus*, Galbanum*, Orange*, Wormwood*)
*
essential oils
Highlights

Ingredients
Sodium Palmate, Sodium Palm Kernelate, Palm Kernel Acid, Glycerin, Sodium Chloride, Aloe Barbadadensis Leaf, Parfum (Cedarleaf*, Eucalyptus*, Galbanum*, Orange*, Wormwood*) *essential oils
Rated

5

out of

5
by
athur
from
I don't usually review stuff but woah, this is amazing! I have thin, very curly hair and was fully prepared for a frizzy disaster at least while adjusting to this. I've used it twice and my hair is so smooth and soft and well defined I can't believe it. All I use after is some Moroccan Argan Oil. You definitely need to do the apple cider vinegar rinse, it feels weird and sticky before but so soft after. So pleased to not have to be shelling out $30 a month on shampoo in a big plastic bottle that probably doesn't actually get recycled by the city, this is going to save me so much money. We'll see how it is as I keep using this but for the moment I am sold.
Date published: 2021-02-02
Rated

5

out of

5
by
Happy R from QC
from
Apple cider rinse required to transition
I absolutely love this shampoo. I have tried a lot shampoo bars including the expensive ones for a nice smell. However this is my favourite go to. The problem is the transition time people don't know about. Our hair is full of residues of silicones, parabens and who knows what from a traditional shampoo. Just follow each wash with a simple apple cider rinse ( 1-2 tsp ACV + 2cups water + gentle massage) until your hair degunks and gets used to this wonderful product. I use it with amazing results and I use it on my kids. Our hair is long, shiny, moisturized and voluminous.
Date published: 2020-09-11
Rated

4

out of

5
by
Hair journey mission!
from
All the Haters, Don't Throw it Out
I totally experienced the heavy greasy waxy result but all you need to do to remedy that is follow with a rinse of 1part vinegar ( 1/4 c. apple vinegar is best, but white will do) to 4 parts water (1 c. filtered or distilled are best but tap will do ) and keep it in a plastic spray bottle in your shower !). This will last a long time. Thoroughly Spray your hair after rinsing out the soap! Massage it into your scalp and lengths ! Then, rinse the rinse out ! Your hair will be de- greased , soft and detangled !! Keep the bar and try again!! PS the "greasies"come from the 4 or more, essential oils in their recipe which are so healthy for the scalp and stimulates hair growth !! You got this !!!
Date published: 2021-06-09
Rated

5

out of

5
by
Emma
from
Great product!
After reading some of the reviews, I was unsure about this product but gave it a try anyway because it is so affordable. I love it! I don't experience the residue that others are describing. That being said, I have thick wavy hair that I have trained to be washed infrequently so it lends itself well to this type of product. This really encouraged my natural waves! I think that if you are going for the smooth and sleek "Pantene" look, this won't be the product for you. I personally find that I do still need a bit of a conditioner on the ends for brush-ability. Like any shampoo, the "squeaky clean" feeling can be hard to brush without conditioning or a detangling product. Lastly, I despise how every hair product has a strong smell and I love that this is scentless. I will be using this product regularly from now on.
Date published: 2022-03-02
Rated

1

out of

5
by
romM
from
Worst one i have ever tried...
I was really hoping this shampoo/conditioning bar would work well for me. It was terrible! It left my hair feeling like there was a layer of wax on it. I tried to blow dry my hair after and couldn't actually tell if my hair was wet still or just waxy. It was very odd. I ended up having to get back in the shower and re-wash my hair with a shampoo bar I trust. Zero value for money. I couldn't even use the rest as a regular soap bar after because it left my skin feeling odd too.
Date published: 2020-01-12
Rated

5

out of

5
by
M
from
Hubby loves it!
My husband has been using this product for at least 10 years and loves it! It's the only product he has in the shower since he uses it for full body and hair cleansing. It has enough conditioning in it to leave his skin and hair moisturized. I've used it on occasion (I have long, wavy hair that needs lots of moisture) and it's been okay even for me but I definitely finish with moisturizing products. No packaging is a definite plus for being more eco friendly, too!
Date published: 2020-06-12
Rated

2

out of

5
by
EM01
from
So disappointing!
I was excited about the prospect of switching to a waste-free shampoo alternative. Unfortunately, the soap leaves an uncomfortable, dry, filmy feel in the hair and on the skin. The price is right, the scent is lovely and understated, but I won't be re-purchasing this product.
Date published: 2020-04-05
Rated

5

out of

5
by
Anna
from
LOVE this soap!
I've been using this shampoo and conditioner soap for many years now and I love it. It's great for travelling (no worries about liquids) and it makes my hair very soft and manageable. It can be a bit harsh for long term use so I also have a moisturizing shampoo that I use. This soap is great for removing the buildup from hair products. Overall a fabulous value for the money.
Date published: 2020-06-12