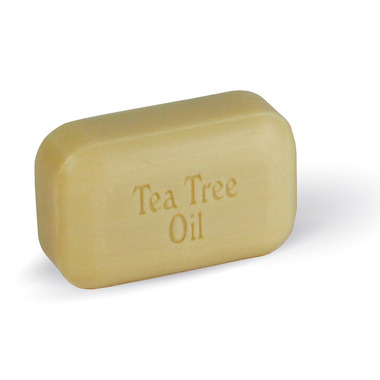 110 g
The Soap Works Tea Tree Oil Soap
is rated out of
5
by
37
.
---
Description
The Soap Works Tea Tree Oil Soap is an all vegetable soap with famous Australian tea tree oil. Mildly astringent, non-irritating, antiseptic, and anti-fungal. It is excellent for shaving or shampooing. The Soap Works tea tree oil comes from a farmers co-op in Australia. It is strong stuff. The Soap Works add as much as the soap bar can hold before becoming too soft to hold its shape. You can tell there is a lot of tea tree oil in the bar by just smelling it.



Highlights

Features
Vegan
Gluten Free
Not tested on animals
DOES NOT contain sodium laurel, lauryl or laureth sulphate
Phosphate free

Comes without packaging
Ingredients
Sodium Palmate, Sodium Palm Kernelate, Palm Kernel Acid, Glycerin, Sodium Chloride, Melaleuka Alternifolia (Australian Tea Tree Oil) Leaf Oil
Rated

5

out of

5
by
khellie
from
I won't use anything else
I use Tea Tree oil for many purposes so I thought I'd give this soap a go....that was over 7 years ago and now I won't use anything else. I have very sensitive skin and any major brand soaps that I have used on my lady parts result in a instant negative reaction-from rashes to infections. This soap has a very mild Tea Tree smell, foams very little and provides stellar cleaning properties. So far Well.ca is the only place I can find it. I'm not sure what I'll do if they ever discontinue it! I highly recommend this product
Date published: 2020-12-29
Rated

5

out of

5
by
B'nana
from
Great soap
Was looking for zero package low scent soap... This is both that... Well wraps in in paper for shipping. Much appreciated as they used to use a plastic bag
Date published: 2020-04-13
Rated

5

out of

5
by
Lorraine2
from
oh, so soft so easy on my skin, i love it
You would have to feel my skin to know how soft it is, but I`m a loner at heart, so I`ll just say: BUY THIS
Date published: 2021-04-07
Rated

5

out of

5
by
Petunia
from
Best soap
This is the only soap I've used for the last 5 years. It's a great product and worth the money.
Date published: 2021-03-27
Rated

5

out of

5
by
Suzieq
from
Gramie's gone green.
In my search for all things natural, that is, green, I have been using the Tea Tree Oil Soap as a shampoo, and it works really well. I have long, medium thick, oily hair; this soap lathers nicely, so I only had to use a small amount. My hair is clean, smooth and did not get oily for a few days.
Date published: 2021-02-18
Rated

5

out of

5
by
Beachgirl
from
Love this soap
I have bought this locally until I found it on the website. It's a great soap, I use it in the shower both on body and face. It lathers well and makes you feel clean after using it. I buy a few at a time, so I don't run out… it's a nice smelling soap, I will be back for more, highly recommend…
Date published: 2021-08-26
Rated

5

out of

5
by
Ash
from
Great soap for the body and environment!
I started buying this soap a few years back and it has been great! Originally started buying it to reduce the waste we produce and have been happy with the quality and the lack of garbage it generates since it comes package free!
Date published: 2020-01-27
Rated

5

out of

5
by
Paivikki1
from
My sixth month using tea tree oil soap
I used to have severely itchy skin until I started using this soap. I love it and have ordered a dozen so I can spread the good word to my friends
Date published: 2021-03-07