Thinkbaby of Steel Stainless Steel Sippy Cup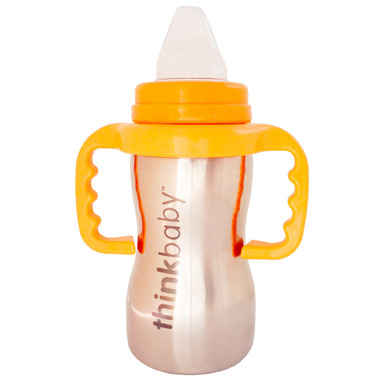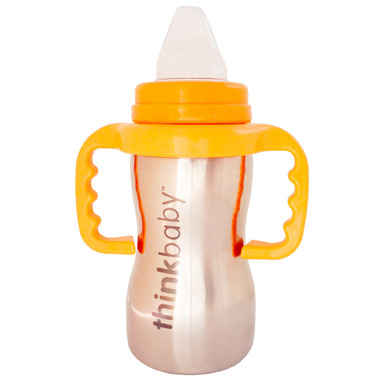 Thinkbaby of Steel Stainless Steel Sippy Cup
- We're sorry, this product is no longer available!
- Shop for other products in: Bottles & Nipples

Thinkbaby Sippy of Steel Cup is built with soft silicone spouts. This makes for easy transition from baby bottles to sippy cups. The spouts feature a cross-cut design, so no spillage when held upside down. There are also no extra little pieces to lose or clean.
Thinkbaby Sippy of Steel Cup is made from 304 Stainless Steel 18/8. The collar is made No. 5 plastic (polypropylene) and therefore can be recycled after use.

Benefits:
Free of Bisphenol-A (BPA), phthalates, nitrosamines, lead, PVC, PET, and biologically harmful chemicals.
No spill spout - features our cross-cut design.
Extra soft, medical grade silicone spout provides easier transition from baby bottle feeding to Sippy Cups. We have won multiple awards based on the ease of transition of our line.
Perfect for 9 to 36 months.
Comes with Travel Top, which reduces chance of spillage during travel and protects the nipple from coming into contact with foreign substances.
Dishwasher safe (top rack recommended).
Base of the bottle made from ultra polished 304 stainless steel (18/8).
The stainless steel sippy cup and the plastic sippy cup are almost identical in weight.
Before First Use:
Sterilize the Sippy Cup in boiling water for 2 to 5 minutes before first use. Thinkbaby do not recommend utilizing sterilizers, as we cannot guaranty that the ones on the market were made with safe materials. The Sippy of Steel is NOT microwave safe. In fact, Thinkbaby strongly suggests that parents do away with the use of microwaves for all items and products destined for your little one.
How do I care for my Thinkbaby Sippy Cup?
Thinkbaby Sippy Cups are dishwasher safe (top rack recommended). The markings are embossed into the metal so they will not come off. The logo is laser etched into the material.
When washing the Sippy Cup in the dishwasher, Thinkbaby recommends using a detergent that is free of chlorine. Most of the natural detergents on the market, from Eco Lever to Seventh Generation, should be free of toxic chemicals. If hand-washing, the American Pediatrics Association suggests using warm soapy water, but only if you live in an area with treated water systems.