thinkbaby Thinkster Straw Bottle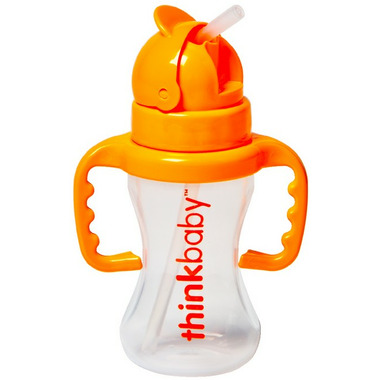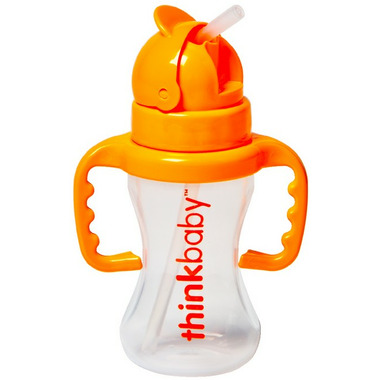 thinkbaby Thinkster Straw Bottle
Your child will love thinkbaby Thinkster Straw Bottle! With a no spill straw, easy close top, and handles to hang on to, this straw bottle is the perfect option when transitioning your child from sippy cups to straws.
Suitable for ages 16 to 48 months old.
Features:
Free of Bisphenol-A (BPA), phthalates, nitrosamines, lead, PVC, PET, and biologically harmful chemicals
No Spill straw!!! – features our cross cut design
Extra soft, medical grade straw provides easy transition from sippy cup to teh next stage of feeding straw bottles
Comes with easy to close swivel top – reduces chance of spillage during travel and protects the straw from coming into contact with foreign substances.
Dishwasher safe (Top rack recommended)
Compatible with thinkbaby Thinkster Replacement Straws

emi:
more than a year ago
Overall, I like how this bottle is made without harmful chemicals. It's hard, however, for the baby to drink the last bit of milk unless the straw is angled the right way. Also, the mouthpiece of the straw is hard to remove for cleaning. My baby also likes to chew on the straw (he has teeth) and it has started to disintegrate. The bottle also leaks in the diaper bag unless we keep it completely upright, so we just keep this bottle at home and use another for travel.
Melissa:
more than a year ago
I was looking or a cheaper alternative to the zoli cup to bring to my son's daycare. I do like the easy to hold handles and the fact that the straw is angled. However, I find the cup quite tall so it's hard for him to drink from with the tray of his high chair in his way. Also, unlike the zoli, this one doesn't have a weighted straw, so I find that even though there's about 3 ounces of milk left, he can't get it because depending on the way the straw is angled, it can't reach the bottom of the cup.
Page
1