Thinksport Natural Deodorant Bergamot Cedarwood
Safer Products for Healthier Athletes
85.8 mL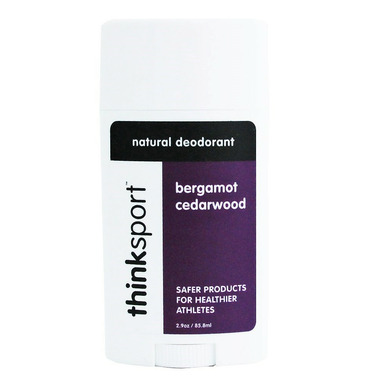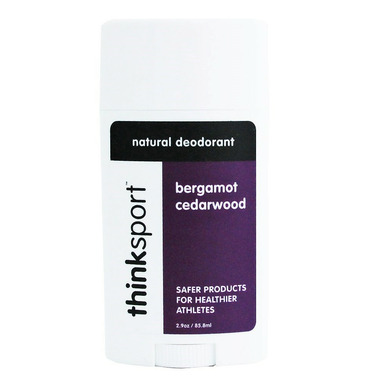 Thinksport Natural Deodorant Bergamot Cedarwood
Safer Products for Healthier Athletes
85.8 mL
Countless deodorants that contain harmful chemicals which should be put nowhere near your skin (phthalates, parabens, aluminum), flood the aisles of mass chain stores... So Thinksport set out to create a deodorant that is free from toxic chemicals. Thinksport Natural Deodorant is made up of ingredients you can trust
and
pronounce. All ingredients are rated "0" or "1" by the Environmental Working Group's (EWG) Skin Deep Database, which is defined as an ingredient "Not likely to be a human toxicant" and is the best score ingredients can receive.
Features
:
Formulation based on Thinksport's scientific expertise in creating safer products
Free of biologically harmful chemicals, no phthalates, parabens or aluminum
All ingredients rated either a "0" or "1" by EWG's Skin Deep database
Applies and absorbs easily
Great size for travel on your next adventure or to your next workout
Produced in the USA
No animal testing (Leaping Bunny member)
Certified B Corporation
Directions
: For smoothest application, place the opened stick under your underarm for a couple of seconds. This allows the formula to warm up slightly. Then apply the deodorant until smooth. This is best achieved by not lifting the deodorant stick when applying. Help us spread the word! Tell all of your stinky friends about Thinksport Natural Deodorant!
Ingredients and EWG safety rating:
Cocos Nucifera (Coconut Oil) (1), Euphorbia Cerifera (Candelilla) Wax (1), Cera Alba (Beeswax) (1), Zea Mays (Corn Starch) (1), Maranta Arundinacea (Arrowroot) Powder) (1), Sodium Bicarbonate (1), Butyrospermum Parkii (Shea) Butter (1), Citrus Aurantum Dulcis Fruit Oil (1), Cedarwood Oil (1)
julie:
a few months ago
This works. After applying, I also use 3 fingers to rub the deodorant into my skin some more. I've been using the one I bought my husband because I wanted to test it against 2 other brands. I like this one and would buy it again. I don't get razor burn with this brand. Other brands that use menthol or baking soda can burn either upon application or later in the day as the deodorant dries out and the baking soda is left on my skin.
Page
1