thinksport Safe Sunscreen SPF 50+
thinksport Safe Sunscreen SPF 50+
is rated out of
5
by
12
.
thinksport Safe Sunscreen SPF is all natural and safe for you and your family. Be sure to pack it on all your family outings. Take it to the beach, to the zoo, on a cruise. But it's not just for your kids. Apply it before going for a run, after you hit the gym, or as daily sun protection before your morning commute.
It is free of biologically harmful chemicals, Avobenzone, Oxybenzone, or UV Chemical absorbers and it is highly effective. Featuring the highest level of Broad-spectrum UVA/UVB protection, this non-GMO sun protection is perfect for daily use.
Made in the USA, thinkbaby Safe Sunscreen has more awards than any other sunscreen and has been voted a favourite among moms, kids, and the Board of Education alike.

Features:
Highest SPF 50+, highest level of Broad-spectrum UVA and UVB protection and highest level of water resistance (80 mins) (per FDA 2012 Rules)

Non-nano formulation – Average particle size >100micron
Non-aerosol formulation

Paraben, phthalates, PABA and 1,4 dioxane free
Applies and absorbs easily with a non-oily feel
Sunscreen produced in the USA
Does not have an obtrusive smell that many organic sunscreens have
Application: Be sure to apply all areas that will be exposed to sunlight, including behind the ears, neck, hands, feet, and scalp. Reapply every two hours or more as needed. This formula applies very easily, spreading too thin is not recommended, otherwise you will decrease the effectiveness of the sunscreen.

Compare other sunscreen's "safe" ingredients to Thinksport. The best way is to check out The Environmental Working Group's database EWG Skin Deep

The ratings for each ingredient are listed separately below (in brackets). The Thinkbaby and Thinksport sun care products have been "1" rated since 2010!

Active Ingredient: Zinc Oxide 20% (Non-nano)

Inactive Ingredients: PURIFIED WATER (0), ALOE BARBADENSIS LEAF JUICE (0), CAPRIC CAPRYLIC TRIGLYCERIDES(0), SORBITAN STEARATE (COCONUT BASED) (1), PINE WOOD RESIN (0), VEGETABLE GLYCERIN (0), CETYL DIMETHICONE (0), HYDROGENATED CASTOR OIL (0), MAGNESIUM SULFATE (EPSOM SALT) (0), SUNFLOWER OIL, JOJOBA OIL (0), ASCORBIC ACID (VITAMIN C) (0), TOCOPHEROLS (VITAMIN E) (1), OLIVE OIL (0), RASPBERRY SEED OIL (0), CRANBERRY SEED OIL (0), HYALURONIC ACID (MADE FROM VEGETABLE) (0), CURRANT (0)
Note: Thinkbaby and Thinksport sunscreen comes in tubes made of environmentally friendly packaging that does not contain BPA, vinyl, or phthalates. The packaging and contents are environmentally safe. Each tube is marked with an expiration date.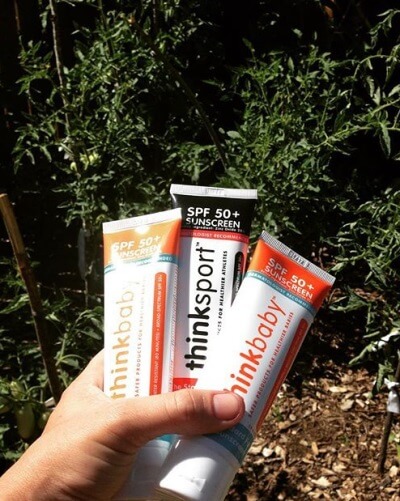 Note: Thinkbaby and Thinksport sunscreens are perfect for daily use and for anyone spending time in the sun, including pregnant women, children over 6 months, and anyone with sensitive skin. Please note that use of sunscreen on children younger than 6 months of age requires a doctor's prescription. This is true for ALL brands.

Mineral Based, Non-GMO, No Animal Testing, recyclable, toxin free packaging. Health Canada Approved.
Similar Body Care Sunscreen
Other thinkbaby thinksport Products
Rated

5

out of

5
by
J.S.
from
Exactly what I was looking for!
So I have been searching for an all natural sunscreen, reading reviews for different brands for about a month now. As soon as I would find what seemed like a good choice, I would see a contrasting review or watch a youtube video that would scare me off, or even be finally satisfied but realize they don't ship to Canada. After being fed up, I finally just went for ThinkSport. I'VE FINALLY FOUND WHAT I'VE BEEN LOOKING FOR! This sunscreen is medium consistency, and after less than 5 minutes you can't tell it's on. Unexpectedly it has a lovely sweet citrus scent and feels moisturizing but not too greasy! Thank you Well.ca - I look forward to keep purchasing this!
Date published: 2020-05-01
Rated

5

out of

5
by
Ella2963
from
Works, and easy to apply
I purchased this sunscreen before a trip last Fall. I am a fair redhead, and we spent two months in countries near the equator, including a week on a boat in the Maldives. The captain took one look at me the first day and said "oh, you're definitely going to get burnt!" I used this sunscreen religiously and did not get burnt!! I like that it is not as thick as most other spf 50 natural sunscreens, so is easier to rub in. It had a nice light scent that wasn't overwhelming. And the tube stayed sealed in my luggage. I will definitely buy this again.
Date published: 2020-05-21
Rated

5

out of

5
by
ClaudiaSofia1234
from
Great environmentally friendly product
I was purposely looking for a sunscreen that wasn't going to harm the environment as I was planning to go scuba diving and I know about the damage caused by sunscreen. This product effectively protected me from the sun and I do hope it is, as it says, environmentally friendly. I only applied once and it did the trick for the whole day
Date published: 2021-12-03
Rated

1

out of

5
by
MomOfTwo
from
Extremely Disappointed
I've bought countless thinkbaby and thinksport kids sunscreen. They both rub in easily, have a pleasant smell, and work great at blocking the sun. Because of that, I decided to try this product. I thought if anything the formula may be a little thinner and go on even easier since in general baby and kid's sunscreen tends to be thicker. Was I ever disappointed! This product was extremely thick and I had a very hard time rubbing it in on myself and my children to the point that I gave up. Both kids left the house with white smears all over. On top of that the smell is very off putting. I did not expect to be so disappointed. The other products I've tried are 5 stars, I bought the family size bottle expecting nothing less and now I'm out 34.99+ tax.
Date published: 2021-08-06
Rated

4

out of

5
by
Alex
from
Love it!
This is my favourite natural sunscreen for the body (I use Organika for the face, which blends in much better). This does leave a light white cast, so may not be the best option for darker skinned folks or those who mind having a bit of a white residue. That being said, I do recommend this sunscreen! It has a mild, sunscreen scent (makes me think of summer) and blends in fairly well, especially if you give it time to sink in. I have worn it in the desert and stayed protected!
Date published: 2021-04-29
Rated

4

out of

5
by
Elly
from
Very effective
I really like this mineral sunscreen. The white cast is almost unnoticeable, it is easy to spread, the scent is much milder than the other thinkbaby products. I can't give this a 5 star only because for some reason, after sitting on the face for a full day and after reapplication, my skin starts to feel uncomfortable. Maybe a slight reaction? I've been exploring other alternatives and the Ombrelle face cream has worked for me without experiencing the same reaction.
Date published: 2020-05-11
Rated

5

out of

5
by
Kerri
from
LOVE this sunscreen!
I first bought a travel size of this sunscreen to try out. Used it every day on my Costa Rica trip back in Feb. No white chalky residue. No greasy feel. No strong scent. It is an excellent, comfortable sunscreen to wear! Definitely worth the $$ for this eco safe sunscreen!
Date published: 2020-05-06
Rated

4

out of

5
by
Del
from
The only cruelty-free sunscreen I've found so far that comes in a bigger size tube. It does have a strong fruity smell but I find it more strange than good or bad. Very thick, needs to be rubbed in really well so I don't attempt to use it for my toddler.
Date published: 2021-06-25