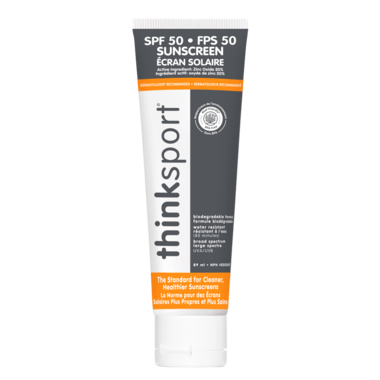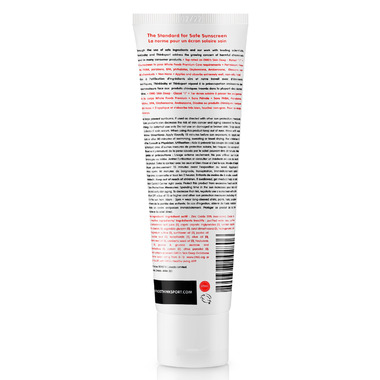 3 oz
thinksport Safe Sunscreen SPF 50+
is rated out of
5
by
8
.
---
Description
thinksport Safe Sunscreen is safe for you and your family. It is free of biologically harmful chemicals, Avobenzone, Oxybenzone, or UV Chemical absorbers and it is highly effective.
Directions: Be sure to apply all areas that will be exposed to sunlight, including behind the ears, neck, hands, feet, and scalp. Reapply every two hours or more as needed. This formula applies very easily, spreading too thin is not recommended, otherwise you will decrease the effectiveness of the sunscreen.

Note: Thinkbaby and Thinksport sunscreens are perfect for daily use and for anyone spending time in the sun, including pregnant women, children over 6 months, and anyone with sensitive skin. Please note that use of sunscreen on children younger than 6 months of age requires a doctor's prescription. This is true for ALL brands.
Mineral Based, Non GMO, No Animal Testing, Recyclable, toxin free packaging. Health Canada Approved.
Highlights

Features
Highest SPF 50+, highest level of Broad-spectrum UVA and UVB protection and highest level of water resistance (80 mins) (per FDA 2012 Rules)

Non-nano formulation ? Average particle size >100micron
Non-aerosol formulation

Paraben, phthalates, PABA and 1,4 dioxane free
Applies and absorbs easily with a non-oily feel
Sunscreen produced in the USA
Does not have an obtrusive smell that many organic sunscreens have
Ingredients
Active Ingredient: Zinc Oxide 20% (Non-nano) Inactive Ingredients: PURIFIED WATER (0), ALOE BARBADENSIS LEAF JUICE (0), CAPRIC CAPRYLIC TRIGLYCERIDES(0), SORBITAN STEARATE (COCONUT BASED) (1), PINE WOOD RESIN (0), VEGETABLE GLYCERIN (0), CETYL DIMETHICONE (0), HYDROGENATED CASTOR OIL (0), MAGNESIUM SULFATE (EPSOM SALT) (0), SUNFLOWER OIL, JOJOBA OIL (0), ASCORBIC ACID (VITAMIN C) (0), TOCOPHEROLS (VITAMIN E) (1), OLIVE OIL (0), RASPBERRY SEED OIL (0), CRANBERRY SEED OIL (0), HYALURONIC ACID (MADE FROM VEGETABLE) (0), CURRANT (0)
Rated

1

out of

5
by
Steph1555
from
Burned twice while using this sunscreen
I won't use this sunscreen. I applied it about 15 mins before going outside and then reapplied after an hour. I was outside for about two hours total. And I had a sunburn when I came in. Not impressed at all.
Date published: 2021-06-13
Rated

5

out of

5
by
AshPo
from
Absorbs well and effective
My husband and I use this sunscreen on our bodies and he uses it on his face. We are fairly active every day outdoors (walking, cycling, yard work and playing outside with children). We really need a long-lasting, effective sunscreen. So far, this one has worked well for us! We have been using it for a week or so now, but we haven't entered the hot days of summer yet. I can't say yet how it will hold up when we do our outdoor activities on hot days when we are sweating or in the water. The sunscreen absorbs well into our skin leaving a very faint white tint. After time, it doesn't seem noticeable. The product doesn't leave a greasy/oily residue, which is great. We still wash our hands after applying it, since it is a mineral sunscreen and we don't want to get the white residue on other surfaces/clothing. The scent is very faint, so it might only be an issue if you are scent-sensitive. Overall, a great new mineral sunscreen for us to use this summer!
Date published: 2022-05-10
Rated

5

out of

5
by
Lu
from
I like having safe ingredients on my lips
I don't need it as much as I thought because of wearing a mask so much, but I use it for my walks in the quiet areas around my home.
Date published: 2020-08-05
Rated

5

out of

5
by
Anna
from
Light texture. Good protection. Long lasting.
Light texture. Good protection. Long lasting. We have a set of thinksport Products for the whole family. Love them a lot.
Date published: 2020-06-18
Rated

5

out of

5
by
Sharon
from
FAVOURITE
Works well. Applies easily. If you are looking for a goid sunscreen I highly recommend this one.
Date published: 2021-06-03
Rated

5

out of

5
by
N97
from
Good sunscreen
Absorbs well without leaving white marks. No greasy feeling. No odours. Will buy again.
Date published: 2021-03-26
Rated

5

out of

5
by
Lomac
from
Very nice sunscreen
This spreads nicely and easily even though it goes on white, it fades quickly.
Date published: 2021-08-05
Rated

5

out of

5
by
AmandaB
from
Great quality sunscreen
Love this sunscreen! It definitely does the job : )
Date published: 2020-06-15