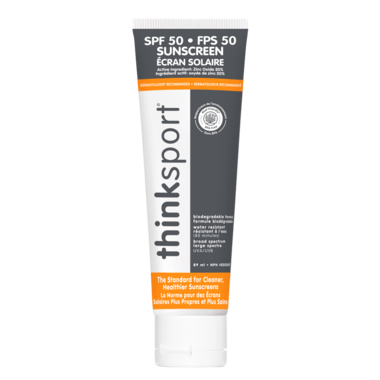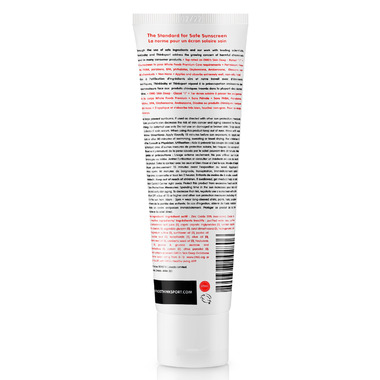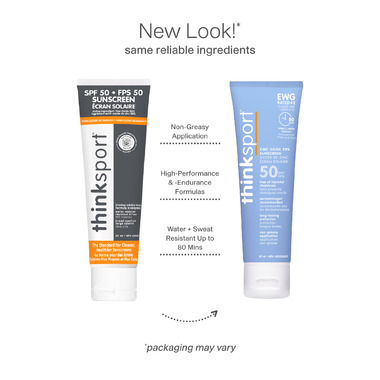 Description
thinksport Safe Sunscreen is safe for you and your family. It is free of biologically harmful chemicals, Avobenzone, Oxybenzone, or UV Chemical absorbers and it is highly effective.
Directions: Be sure to apply all areas that will be exposed to sunlight, including behind the ears, neck, hands, feet, and scalp. Reapply every two hours or more as needed. This formula applies very easily, spreading too thin is not recommended, otherwise you will decrease the effectiveness of the sunscreen.

Note: Thinkbaby and Thinksport sunscreens are perfect for daily use and for anyone spending time in the sun, including pregnant women, children over 6 months, and anyone with sensitive skin. Please note that use of sunscreen on children younger than 6 months of age requires a doctor's prescription. This is true for ALL brands.
Mineral Based, Non GMO, No Animal Testing, Recyclable, toxin free packaging. Health Canada Approved.
Highlights

Features
Highest SPF 50+, highest level of Broad-spectrum UVA and UVB protection and highest level of water resistance (80 mins) (per FDA 2012 Rules)

Non-nano formulation ? Average particle size >100micron
Non-aerosol formulation

Paraben, phthalates, PABA and 1,4 dioxane free
Applies and absorbs easily with a non-oily feel
Sunscreen produced in the USA
Does not have an obtrusive smell that many organic sunscreens have
Ingredients
Active Ingredient: Zinc Oxide 20% (Non-nano) Inactive Ingredients: PURIFIED WATER (0), ALOE BARBADENSIS LEAF JUICE (0), CAPRIC CAPRYLIC TRIGLYCERIDES(0), SORBITAN STEARATE (COCONUT BASED) (1), PINE WOOD RESIN (0), VEGETABLE GLYCERIN (0), CETYL DIMETHICONE (0), HYDROGENATED CASTOR OIL (0), MAGNESIUM SULFATE (EPSOM SALT) (0), SUNFLOWER OIL, JOJOBA OIL (0), ASCORBIC ACID (VITAMIN C) (0), TOCOPHEROLS (VITAMIN E) (1), OLIVE OIL (0), RASPBERRY SEED OIL (0), CRANBERRY SEED OIL (0), HYALURONIC ACID (MADE FROM VEGETABLE) (0), CURRANT (0)